Getting to Know the Quality Team
June 13, 2016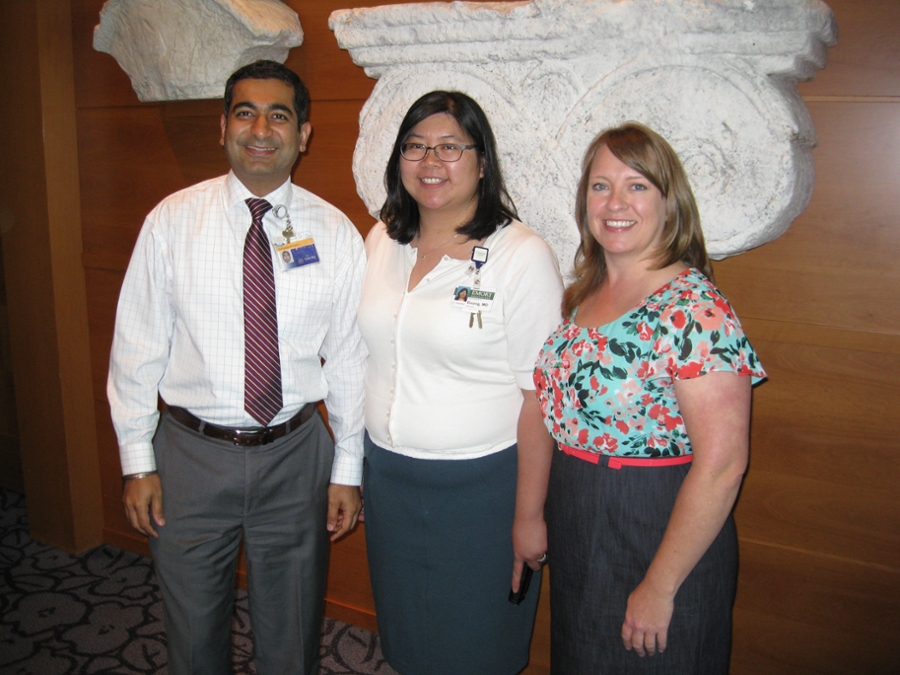 Ask Radiology's Chief Quality Officer Dr. Phuong-Anh Duong who's on the Quality Team and without hesitation she will tell you,  "Everyone in the department! The people who do the work are the best at improving quality," Dr. Duong explains, "so we need everyone on the Quality Team."

Dr. Duong is joined by Quality Program Manager Pratik Rachh MD, MBA as the lead champions of quality for the Department of Radiology and Imaging Sciences. Radiology's Director of Strategic Initiatives Debra Smith, MBA, is the third team member. Together they are ensuring the department doesn't just talk about quality, but, rather, is quality, with quality meaning consistently doing something well.

"Our approach to quality is based on the modern idea that systems, rather than people, should be the focus of improvement," says Dr. Duong. "What's required to produce quality outcomes can be understood and predicted through objective study and controlled experimentation."

Those who want to conduct such quality improvement (QI) projects, can ask for help. "Quality improvement is not intuitive," Dr. Duong acknowledges. "Our team would like to help you design and implement a quality project using robust methodology. We can help you define a SMART goal (specific, measurable, attainable, realistic, and timely), choose appropriate metrics, gather data, analyze data, and create an implementation plan to spread and sustain your improvement efforts."

Many already have benefited from the Quality Team's assistance. Liz Favro, BSN, RN, nurse navigator in Interventional Radiology and Image-Guided Medicine, raves about Quality Program Manager Pratik Rachh's help with her project. "Pratik was most helpful and encouraging in developing the abstract and guiding me through the process. Without his continual support and encouragement, I would not have been able to complete the project. There were a few times that I almost abandoned the opportunity, and as I like to say, Pratik would do CPR on the project and bring it back to life!"  

Dr. Rachh admits to unusual inspiration for his work. "While studying for my graduate course, I accidently found the Remaking American Medicine DVD in my university library.  The DVD introduced me to how badly we are failing our patients who are trusting their lives and the lives of their loved ones with us.  It was a fundamental shift in thinking and a realization that made me passionate about quality improvement and patient safety."

That passion is backed by advanced quality credentials. Dr. Rachh is a certified Six Sigma Black Belt as well as a Certified Professional in Healthcare Quality and Certified Quality Process Analyst.  He earned his MD from Rostov State Medical University, Russia and his MBA from University of Portland.  He additionally completed a one-year internship at Dr. Babasaheb Ambedkar Railway Hospital in Mumbai, India. Prior to joining Emory Radiology in December 2014, Dr. Rachh worked for Massachusetts General Hospital and Boston Children's Hospital.

Dr. Duong became interested in quality while striving to make her daily workflow more efficient and effective.  "I wanted more time to spend on challenging cases, collaborating with my colleagues, and caring for patients.  Like most people, I didn't realize that there was a systematic way to make improvements.  Although some of my early improvement efforts were successful, they probably could have been implemented in a better, more systematic way.  Now I know there is a method to quality improvement, and I'm getting better at using it!"

A nationally recognized cardiothoracic imager, Dr. Duong, who also is an assistant professor in cardiothoracic imaging and director of Computed Tomography for Emory Healthcare, earned her MD from the University of Pennsylvania School of Medicine. She completed a Residency and Fellowship at the University of Pittsburgh Medical Center.

Involving the Quality Team in QI projects from the earliest planning stages can help avoid common pitfalls, Dr. Duong says. "Often, projects are designed with a solution already in mind when the best solutions are simple or discovered after the problem is thoroughly investigated.  Not including the appropriate stakeholders, especially referring clinicians or patients, is another pitfall.  What may not seem important to us may be critical to the patient or referring clinician and their perspectives should be understood early on."

"Quality and Patient Safety are four words often associated with regulations/compliance," Dr. Rachh adds, "but it's a lot more than that.  It's an expanding science of system & process improvement, safety science, change management, statistics & data analytics, human psychology, team and project management.  I'm not an expert in all of these, but surely am expanding my knowledge every day.  This makes it a very exciting and challenging field to work in."

Despite the excitement, team members don't "do quality" 24/7. Away from Emory, Dr. Rachh treasures time with his one-year-old daughter and hiking trails with his wife.

"I enjoy cooking, especially baking," Dr. Duong confesses. "I've got a really bad sweet tooth and 'baking for my friends and family' is a good way to satisfy it.  Also, I enjoy playing the piano—I am always trying to get my 9-year-old son to play duets with me."

To engage the Quality Team in your current or next project, contact Dr. Duong at phuong-anh.duong@emoryhealthcare.org or Dr. Rachh at pratik.rachh@emory.edu.