Faculty and Staff Awards
Oct. 6, 2017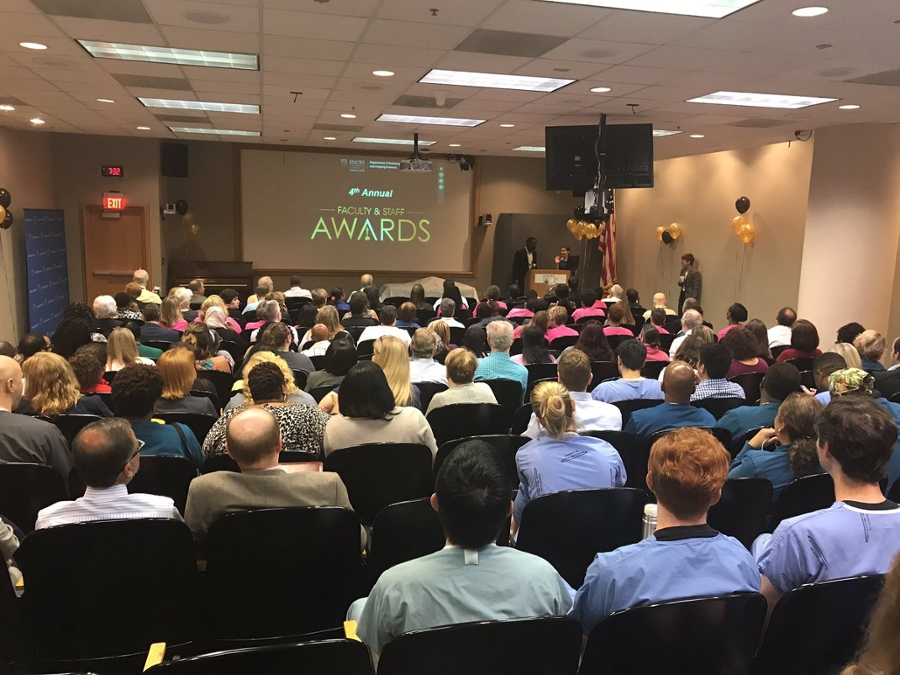 Black and gold balloons unmistakably marked the location for what department leaders call their favorite event of the year: the Emory Radiology Faculty and Staff Awards. This year's festivities featured black and gold banners and colorful balloons reminiscent of Hollywood覡s top awards show.
"For a second I thought I was at a Steelers game," quipped department Chair Carolyn Meltzer, MD, as she welcomed faculty and staff from across the department for the fourth annual event. "But it's really my favorite day: the day we celebrate the incredible talent and dedication of our team members."
This year's event broke all records, starting with an unprecedented 120 nominees. A record crowd gathered to cheer the nominees and winners: more than 150 faculty and staff snagged nearly every seat in the hospital auditorium, while a few dozen faculty and staff lined the back and side aisles and even congregated in the hallways just outside the auditorium doors, eager to hear who won. Two dozen more individuals and teams attended by remote videoconference. Dozens of tweets before, during and after the event spread the excitement into the Twittersphere using #EUHRadAwards17.
Christopher Ho, MD, began the celebration by recognizing the 2017 Teacher of the Year awardees, who were chosen by the Class of 2017 radiology residents and celebrated during the class graduation party in June:
Patricia Hudgins                                      Aarti Sekhar
Next, Harold Glenn, Jr., MBA, shone the spotlight on the faculty and staff Caught in the Act of Service Excellence in 2017. These awardees committed notable acts of service excellence and their work exceeded the expectations of the internal and external customers who nominated them:
Lauren Becker                                        Inez Dupree
Irwin Best                                              Eric Husband
James Galt, PhD, then recalled the many contributions of Emory Radiology's Tracy Lynn Faber, PhD, for whom Emory Radiology posthumously established the Tracy Lynn Faber Award in 2012 to celebrate the contributions and advancement of women in imaging sciences and which now is managed at a national level by the Society of Nuclear Medicine and Molecular Imaging (SNMMI). See SNMMI story here.
To kick off the much-anticipated awards presentations, co-chairs Willie Arnold, MBA, and Courtney Moreno, MD, thanked the faculty and staff who served on the selection committees:
Staff Awards Committee:                                        Faculty Awards Committee:
Willie Arnold (co-chair)                                              Courtney Moreno (Co-Chair)
Dexter Bostic                                                            James Galt                                          
Jamie Denis                                                              Ray Higginbotham
Bertu Kedir                                                               Kelly Marshall
Brian Malcolm                                                           Sarah Milla
Robin Pierce                                                              Deqiang Qiu
Deb Smith                                                                              
Kathy Werts
For each of the following awards, each member of the appropriate committee scored the nominations in each award category against specific criteria. The scores were averaged to create a composite score for each nominee; the highest score secured the award. In cases of a tie, both top-scoring nominees received the award.
The following are the nominees and awardees (in bold) for the faculty and staff awards:
Outstanding Care Provider (Staff):
Lauren Becker                                                 Kenny Doan                                                   
Hilary Karp                                                      Jackie Knight
Henry Smith                                                   Larissa Woodard
Outstanding Patient Care Junior (Faculty):
Anne Gill
Outstanding Patient Care Senior (Faculty):
Jean Kunjummen                                            Stamatios Lerakis
Janice Newsome                                             William Small
Matthew Zygmont, MD
Outstanding Mentor (Staff)
Michael Bowen                                                 Leslie House
Nykeshia McCoy                                              Anthony Ray
Deb Smith                                                    Pamela Stanley
Outstanding Mentor (Faculty) - TIE
Pardeep Mittal                                              Mark Mullins
Mary (Mimi) Newell                                        Janice Newsome
Arthur Stillman
Outstanding Leader (Staff)
Ruby Alexander                                              Robin Sark
Jim Streeter
Rising Star (Faculty)
Kristen Baugnon                                           Zachary Bercu
Peter Harri                                                 Ephraim Parent
Ryan Peterson
Face of Excellence (Staff)
Ruby Alexander                                              Susan Herbert Black
Sharon Cain                                                   Lynn Cooper
Alice P. Deaton                                               Maria F. Durden
Adena Falkenhagen                                         Valerie Fowler-Robinson
Angela Houston                                            Ashley Koester
Beverly Maiolo                                                Jackie McCarty
Candice McLean                                              Rebecca Neill
Susan Reich                                                    Jane Vitali
Stacey Walker                                                 Angie Williams
Outstanding Service in Support of Mission (Staff)
Camille Dingle                                                Carol Dowdle
Brenda Hall                                                     Jack Knight-Scott
Pratik Rachh                                                  Kathy Vaughn
Outstanding Service Junior (Faculty)
Michael Hoch                                                Gayatri Joshi
Outstanding Service Senior (Faculty)
Jason Allen                                                   Deb Baumgarten         
Raghuveer Halkar                                          Brent Little
Rebecca Seidel
Outstanding Researcher Junior (Faculty)
Kelly Cox                                                     Tarek Hanna
Outstanding Researcher Senior (Faculty)
Jason Allen                                                  John Oshinski, PhD
J. David Prologo                                           David Schuster
Outstanding Team - TIE
Breast Imaging Center Team at Emory Johns Creek Hospital
Breast Imaging Center Team at Emory Saint Joseph's Hospital
Breast Imaging Center Team at Emory University Hospital Midtown
Communications and Creative Services Team
CT Team at Winship Cancer Institute
Imaging Workflow Specialists
Interventional Radiology Scheduling Team
Medical Imaging Program Team
MRI Team at Emory University Hospital
MRI Team at Winship Cancer Institute
Nuclear Medicine Team at Emory University Hospital
Nursing Outpatient Imaging Center Team at Emory Saint Joseph's Hospital
Ultrasound Team at Emory Johns Creek Hospital
Ultrasound Team at Emory University Hospital
X-Ray Team at Winship Cancer Institute
New for 2017 was the Lifetime Achievement Award, with nominees and winners for both faculty and staff. 
Lifetime Achievement (Staff): Honoring non-faculty staff with more than 15 years at Emory who have demonstrated outstanding service, leadership, innovation, and/or teaching to the Department of Radiology and Imaging Sciences, Emory Hospital and Clinic systems, and/or the patient and community we serve.
Russell Folks
Lifetime Achievement (Faculty): Honoring faculty with more than 15 years at Emory who have demonstrated outstanding administration, citizenship, clinical practice, leadership, research, service, and/or teaching.
            W. Thomas Dixon                                    Louis Martin
            Dawn Moore                                           William Torres
Congratulations to all nominees and winners!