Get to Know Felix Gonzalez, MD
Dec. 13, 2018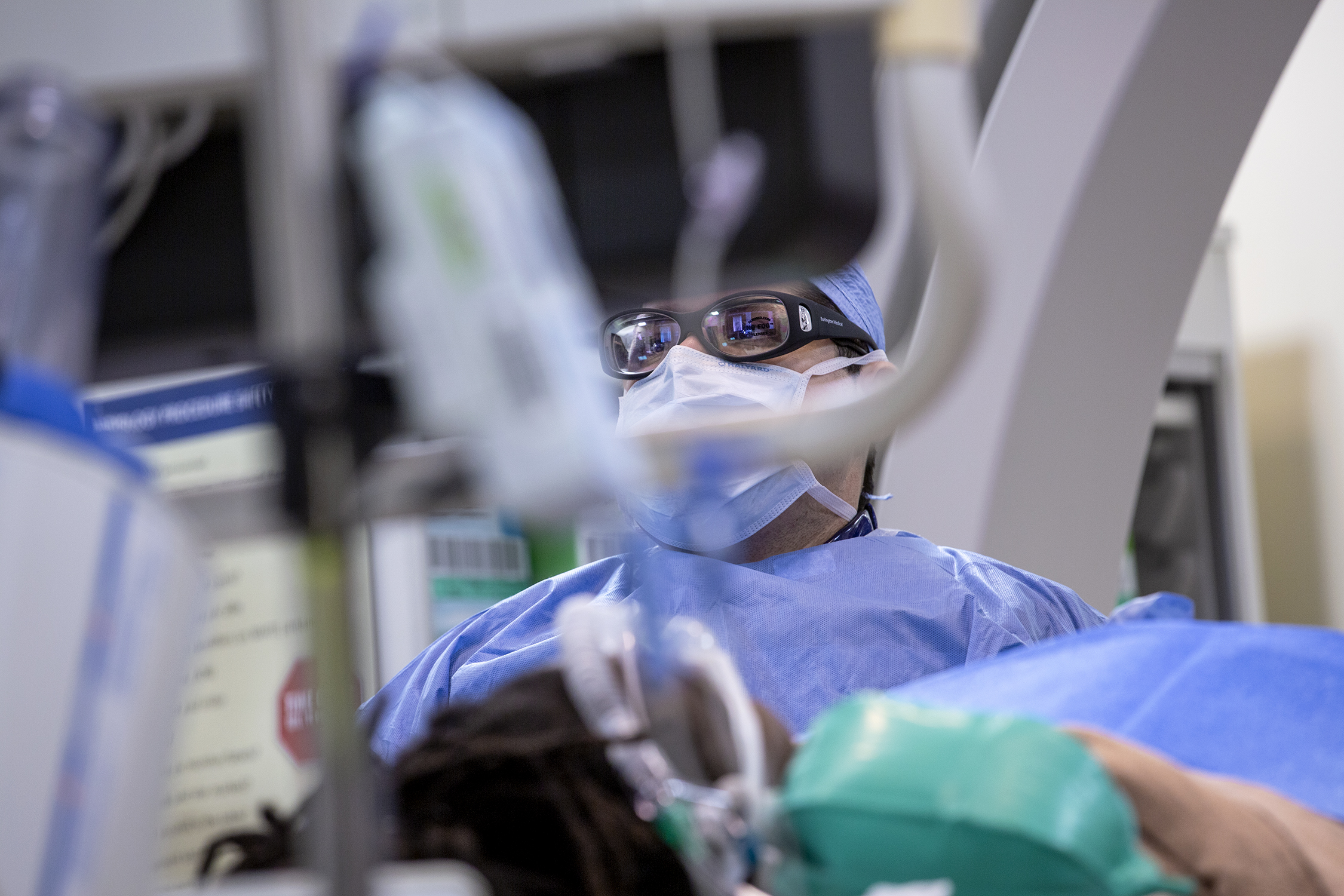 By Sam Marie Engle
Becoming a doctor was a dream for rich boys, Felix Gonzalez' blue-collar father told him. Aspire to get a good job in a factory and be happy living a modest life. But young Felix couldn't see himself working in a factory, not after all the suffering he'd seen in his native Cuba. Felix, who was raised by his hardworking mother, remembered the suffering, including his mother's, and vowed to become part of the solution.
"My grandfather always said, "We have choices. We can go in any direction we want. We can rise above."
And it wasn't just talk: his grandfather started his adult life working as a janitor and so impressed his employers they sent him to the University of Havana, where he earned a degree in engineering. "He inspired me. He had the motivation and talent and he found people who believed in him. I knew I could do the same, do something for the people, no matter how challenging it would be."
Leaving and Losing Home
It turned out to be more than challenging. After his first year in medical school in Cuba, Felix Gonzalez was drafted and served in the Cuban military for two years. When discharged, he headed to the U.S. and Elizabeth, NJ, where his father lived. The father-and-son reunion was short-lived and painful. 
"We didn't see eye-to-eye. I ended up homeless for a year," he admits. 
Discovering common Jersey roots with this reporter tempered any lingering bitterness as we pinpointed the parking lot he called "home": a gritty square of crumbled asphalt sandwiched between the Department of Motor Vehicles and a McDonald's. It was about a block from both the court house and the prison, a place I remember because my own father explained the cars we saw weren't parked for lunch; they were the battered homes of people who had nowhere else to go. Felix Gonzalez lived in one of those cars. He remembers how it was so cold in the winter, he would turn the car on just for a bit of warmth late at night.  
Even homeless, he didn't give up on his dream of becoming a doctor. "I majored in chemistry at Kean College (now University). I had three jobs to pay for tuition and I barely slept. I set up the chem labs early in the morning at the college before going to classes. I'd work from 2 p.m. until midnight for FedEx and then I worked as an EMS tech on the weekend. For me, good enough was not enough. English wasn't my first language so I had to study extra laboriously."
You Decide How Far You Go
With no idea how to pay for it, he applied to medical school—dozens of medical schools. Only two responded: Rutgers Robert Wood Johnson Medical School (formerly the University of Medicine and Dentistry of New Jersey) in Piscataway, NJ and Albert Einstein College of Medicine in NYC. "I went to the dean's office at Rutgers with the idea of talking directly to him so he would know who I was," Dr. Gonzalez explains. "They wouldn't give me an appointment, so I just waited there and then, finally, they let me in and I spoke to the dean. I told him my story and shared how passionately I wanted to be a doctor. They took a closer look at my record and finally admitted me. It was one of the most difficult things I have ever done but I had my grandfather's voice inside reminding me, "You decide how far you can go." 
Not only did he find his place in medical school, he also met his wife. "I met her at the hospital and she took me in, gave me a place to live." A relationship bloomed much later.
Language and The Power of an Image
Medical school was even more challenging for Dr. Gonzalez because he still was learning English. He read everything three times or more and spent hours translating notes so he'd understand it. During his radiology rotation, he discovered the language of images made perfect sense. He'd found his specialty.
Diagnostic radiology residency at the University of Maryland Medical Center taught the young Dr. Gonzalez how vital orthopaedic imaging expertise was in the trauma or ER setting. "Patients would arrive with multiple traumas and complicated bone injuries. It was fascinating to predict the imaging findings and even more rewarding to see what a difference those findings made." From there Dr. Gonzalez completed a fellowship in musculoskeletal radiology at Thomas Jefferson University Hospital. "It was a tremendous place to train and gain expertise in ultrasound, MR, sports hernias—they have the clinic to specifically diagnose and treat those injuries. I learned a lot about image-guided treatments for orthopaedic conditions."
Dr. Gonzalez then took a clinical job in the DC/Maryland area. Although he was back with many of his friends, he didn't feel at home. "I missed the academic medical setting. The moment an opportunity became available at Emory, I immediately applied. Emory has a strong reputation for dedication to patient care and is a national leader in academic radiology so I wanted to be a part of that kind of excellence."
At Home at Emory: Collegial, Collaborative, Creative
Now assistant professor of radiology and imaging sciences in the Division of Musculoskeletal Imaging, Dr. Gonzalez loves being part of Emory Radiology. 
"The collegial environment here is exciting," Dr. Gonzalez says. "People truly support each other. I don't thrive in punitive environments. At Emory, it's more about achieving your personal best. Everyone supports everyone."
He pauses, and then says, "What really impresses me most is Dr. Meltzer: her willingness to be available to talk through issues, to advise us about our career path, our interests. When you work with good people, people who are supportive, opportunities arise and you feel well about taking them. Dr. Monica Umpierrez (director of the Division of Musculoskeletal Imaging) is the same. She is so supportive and is an excellent champion for all of us in musculoskeletal imaging."
Dr. Gonzalez is developing expertise in image-guided procedures. For example, he is trained in performing the Coolief® procedure for patients who don't qualify for knee replacement surgery but have severe arthritis. The image-guided cool radiofrequency ablation procedure is FDA-approved and provides longer-lasting pain relief and improved mobility than steroid injections and opioid pain medications.
"Injections don't work and patients end up overweight, depressed," Dr. Gonzalez explains. "I approached Dr. Janice Newsome (director of the Division of Interventional Radiology) and Dr. Zach Bercu (clinical site director for Interventional Radiology at Emory University Midtown) in IR about offering the Coolief® procedure in conjunction with IR. They agreed to support me in becoming a provider. I now have clinic time once a month on Tuesday morning to perform the procedure at Emory University Midtown. I love seeing patients directly and treating their pain."
Thus far, he's successfully treated more than 20 patients with the Coolief® procedure and there is a waiting list of about 70 patients. In keeping with his passion for academic radiology, Dr. Gonzalez wants to continue mentoring residents and fellows for musculoskeletal image-guided procedures. "We'd love to expand the procedural program, train more fellows so we can treat more patients."
Today, Dr. Gonzalez finally feels like he has a professional home at Emory. "Emory has given me the opportunity to do so many things out-of-the-box. It's unusual to become a direct patient-care provider. It's even more unusual to provide diagnostic and therapeutic imaging for professional sports teams as well as weekend warriors alongside top doctors in both orthopaedics and radiology. I only could do this here at Emory, have these experiences, and have people willing to support and help me take novel ideas and make them happen."