Getting to Know You: Dr. Michael Miller
Oct. 3, 2016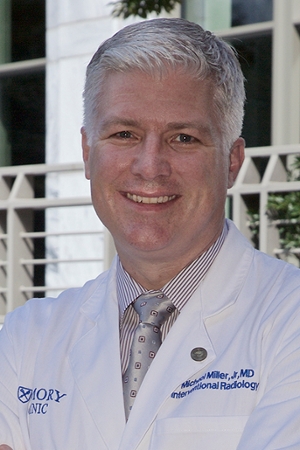 "I've always been a big picture person, even in radiology...and over my years for some strange reason, I've become a logistics geek...I look at all the information about what are we putting patients through when they are having a procedure and I ask, 'What are the touch points? Where are there inefficiencies?' That's what I want to fix, need to fix but the biggest challenge is having enough time."
And breathe. 
Dr. Michael Miller, associate professor of radiology and imaging sciences, talks as if breath is as limited as time. It may well be, given that he is the new director of interventional radiology and image-guided medicine, charged with leading the division through a rapid growth spurt while simultaneously overhauling its operating systems. He's well-suited for the challenge, almost made for it, even if becoming a doctor was somewhat accidental.
Blame high school sports. The young Michael Miller was fascinated by the process the orthopaedic surgeon used to diagnose and treat a sidelining knee injury. "I was convinced I had to become a physician," he explains, "and not just a doctor, but particularly a surgeon. I wanted to do what he did." 
Medical school at Hahnemann University in Philadelphia validated Miller's conviction. Until third year. 
"During rotation, there was a chief resident in surgery who said I shouldn't do surgery, I should do interventional radiology. It was the best career advice I ever got because it put me in touch with what seems to come naturally to me.  Every day there's something more, something new, something replacing something else."
His passion is palpable, which worries Dr. Miller now that he's responsible for a growing team of interventional radiologists, technologists, nurses and support staff. "I get paid to do my hobby," he confesses. "It's not work. It's satisfying but it's frustrating because that passion and interest can wear people out. I worry about our technologists and nurses. I want them working in an environment that supports their efficiency, that lets them get through their day without getting stressed and overloaded. That's important not just for job satisfaction, but also for being able to rise to the occasion for emergencies." 
Dr. Miller is focused on simplifying work flows with efficient technology. "We're trying to turn the lights on for IR around the intrinsic solutions that already exist within the Emory system first. I'm enjoying working with Nabile Safdar (MD, MPH, vice chair for imaging informatics) and Emory IS folks as we vet solutions that have worked for me in the past regarding inventory management, scheduling optimization, and improving patient flow." 
The Interventional Radiology team is an obvious source of pride. "I've inherited a spectacular team," Dr. Miller says. "They really want what's best for our patients, and that inspires innovation, thoughtfulness, and a level of dedication beyond normal work demands, indeed, regardless of the impact on their personal lives."
The new Interventional Radiology Residency program is another source of excitement. "I love to coach trainees. IRs have to never lose sight of how important it is to be a great diagnostic radiologist first. IR is a very valuable tool when we rightly adjudicate the process. When we recommend something, it has great value because it's based on specific, sound clinical decisions, accurate diagnostics. The Interventional Radiology-Integrated Residency will train diagnostic experts and translate them into clinical IRs." 
Dr. Miller has less time these days for coaching given the demands of leadership, but he's optimistic about the trade-off. "I have a different mission now: to do something bigger than me that rewards and makes a difference for many, many more than I could help on my own."