Meet a Clinical Instructor: Lisa McClure, RT(R)
Aug. 3, 2015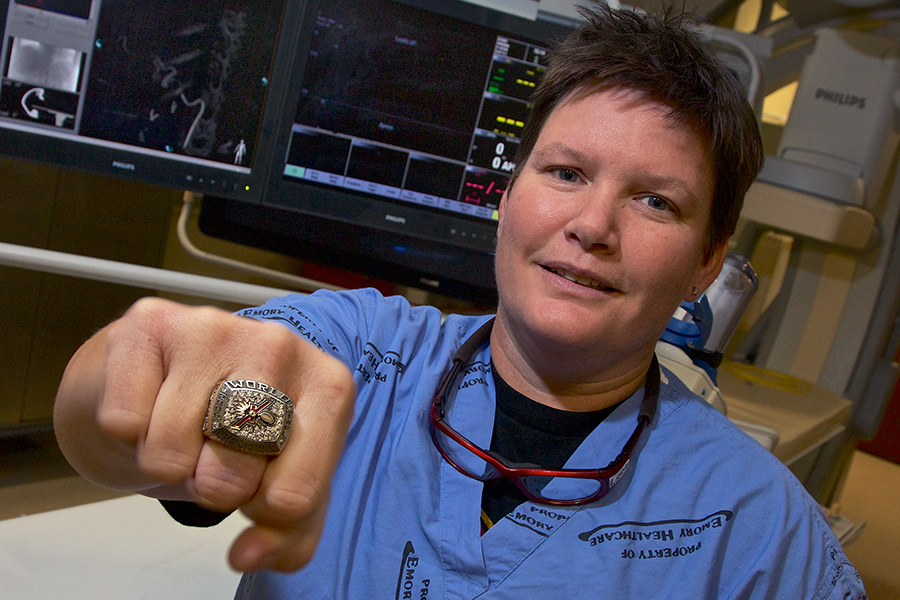 Lisa McClure has been a Clinical Instructor for the Medical Imaging Program for 15 years in both diagnostic imaging and more recently interventional radiology. Lisa graduated in 1993 from Lake Michigan College in Benton Harbor, Michigan with her associate's degree in radiologic technology. She later earned a bachelor of applied science degree from Sienna Heights University in 1997 and a master's of science degree in health service administration in December 2013.  Prior to joining Emory Healthcare in 2000, Lisa worked for the Lakeland Regional Health System in Berrien Springs, MI where she was also a clinical instructor in medical imaging. 
Lisa cross-trained as a technologist in interventional radiology (IR) at Emory University Hospital Midtown and has worked in IR there for about five years now. Lisa's approach with students (and colleagues) is to recognize that everyone comes in with a different skill set and personality. She works to adapt her style to the students while setting expectations and striving to share all her knowledge. A positive attitude is very important to Lisa and her main focus is always patient care. She expects students to have a positive attitude, too. Students are encouraged by Lisa to actively participate. She works with them to develop a sense of the patient's physical and emotional state and adjust their approach in terms of communication and assistance offered. She reminds them to be confident – "the patient doesn't know what you don't know." 
Lisa is a BIG fan of football – holding season tickets for both the Atlanta Falcons and the Georgia Tech Yellow jackets (even though she is a true GO BLUE Michigan Wolverine fan). She is a former football player herself! Lisa was the starting center for the Atlanta Xplosion professional women's football team in 2003-2004. She started in 14 games before hurting her knee. She continued to coach with the team and was the offensive line assistant coach for the 2006 National Championship team!