Getting to Know You...Harold Glenn
June 22, 2017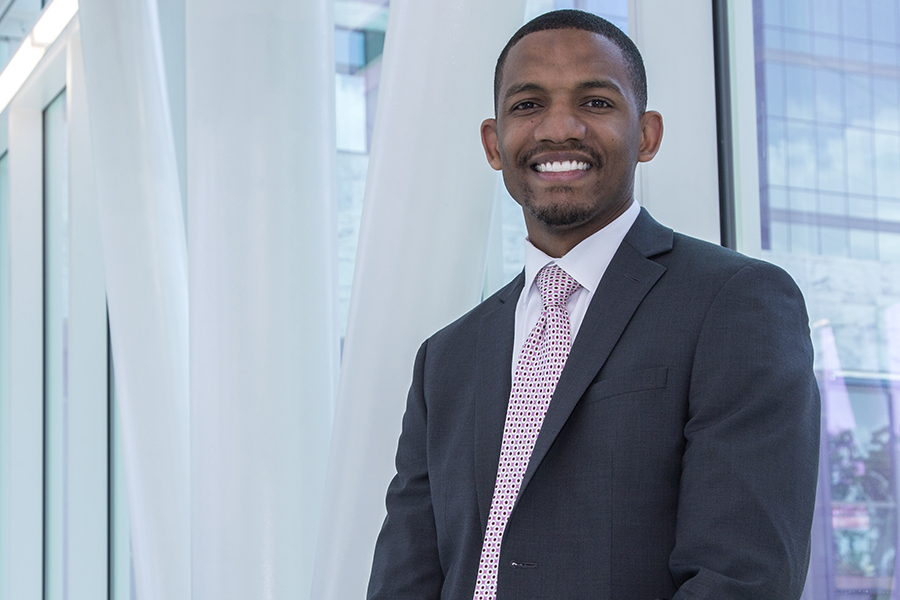 Harold Glenn never tells people where to go; instead, he helps get them where they need to be. It's what he's done at Emory for seven and a half years, and although the nature of the movement has changed, the passion for excellence has remained steadfast.

Harold started with Emory in 2009 as a patient transporter, responsible for physically moving patients through the hospital. Today, as Emory Radiology's clinical business manager for Emory University Hospital Midtown, Harold is responsible for aligning people and resources to support the radiology physician practice and to maximize excellence in imaging services across all modalities at Emory Midtown.

The work draws on Harold's love of business chemistry. "I like serving as a catalyst for problem solving. I like bringing the right mix of people together to bring about the right solution."
It also taps his natural affinity for people and his seemingly limitless capacity for empathy, which he calls his secret to excellent customer service. "If you can imagine yourself in your customers' (patients, colleagues, leaders, etc.) shoes, the right answer usually presents itself."

When he moved to Emory Radiology in 2014 as a service performance consultant, Harold was instrumental in revamping Emory Radiology's Service Excellence Institute, which he still manages today. "I love Service Excellence Institute," he says. "It allows me to talk about my favorite topic and connect with people from across the department."

Harold's other responsibilities for promoting a culture of service excellence and enhancing the patient experience for Emory Radiology include reviewing and analyzing patient comments from Press Ganey satisfaction surveys, leading the "Caught in the Act of Service Excellence" recognition program, and facilitating focus group meetings with employees and executive leadership. Harold also serves as the liaison to the Emory Radiology Patient and Family Advisory Council.

Harold does more than talk about customer service excellence; he is customer service. No matter how much he has on his to-do list, he's immediately responsive to colleagues who need assistance. While recently navigating the maze of Midtown's hallways with him, Harold stopped, not only to pick up the clipboard and pen a housekeeping staff member dropped while trying to get a mound of linens taller than herself around a corner, but also to smile and offer a kind word. Before passing through a doorway or corridor junction, he stepped back or aside to let others pass first.

Time with Harold is a gentle apprenticeship in service excellence.

He finds his work challenging and rewarding. "I enjoy working on projects that help improve culture in the department. I find this rewarding because we, as a department, do our best work when engagement is high."

With so much on his plate, Harold simply describes a typical day with two words: emails and meetings. That may be why he's yet to hang a picture or otherwise personalize the office he's occupied since moving to Emory Midtown in December.

Harold has grabbed every opportunity to learn and grow in his work. He holds a bachelor's degree in community health education from Georgia Southern University and in 2016 he earned his MBA from Georgia State University. He graduated from the Radiology Leadership Academy in 2015.

A Detroit native, Harold now calls Decatur home. He unwinds by jogging and reading. When it's time for a vacation or a long weekend, Harold heads for the water: the ocean, of course, but also lakes and rivers. You'll find him swimming, boating, rafting, or just recharging on the beach.

Recharging is essential. "You know," Harold confesses, "at some point (in my life), I wanted to be a doctor, nurse or tech. In my role now, I get to work beside them every day and this makes me feel like part of the team and makes me want to be on top of my game; making their lives easier is my contribution to the mission."

He's come a long way in just seven and a half years, but Harold still values his time as a patient transporter. "Looking back," he says, "it was probably the best intro for a career in healthcare strategy. People still need directions and a little push to get where they need to go."

Harold's right there providing that little extra push, keeping everyone headed in the right direction.