Notes on Quality: Best Practices in Team Engagement
Feb. 13, 2017
When the Radiology Quality team and other department administrators met with members of the Breast Imaging Team at Clifton Campus in early November, the break room table was set for sharing the meat and potatoes of exemplary team engagement. 
The gathering was part of the new Partnership Rounds, which encourages candid and informal discussions about both best practices and areas of improvement to optimize quality of clinical care. Led by Chief Quality Officer Dr. Phuong-Anh Duong, rounds take place monthly. Dr. Pratik Rachh, Chuck Powell, and Harold Glenn, Jr. routinely join Dr. Duong for Partnership Rounds, with other senior managers joining the group when visits involve their units of responsibility.
"Partnership Rounds have helped identify best practices for engagement and process improvement," said Dr. Duong. "It's also an opportunity for the team to engage department leadership to help address issues beyond the team's control.  Although we may not be able to remedy all the problems, we can at least have the front-line perspective on systemic issues that need to be addressed and be better advocates for the team." 
According to Dr. Thomas Lee, chief medical officer of Press Ganey, the patient's perspective of teamwork is the single most important factor affecting whether or not they would recommend a health care provider.  Patients know a good team when they see one.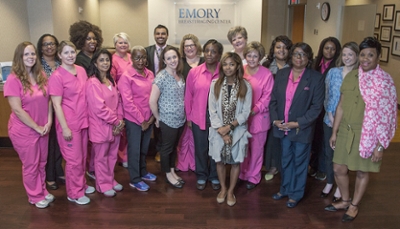 That's why the visit with the Breast Imaging at Clifton Campus team began with Harold Glenn, Jr., presenting a certificate of merit to the Breast Imaging Team for reaching its Press Ganey patient satisfaction goal for FY 2016.
"Feedback from the engagement survey informs us where there's room for improvement," says Glenn, clinical business manager. "It's important because engagement affects not only the quality of patient care, it also affects employee retention and productivity." 
The BI team's strength in patient service starts with team leader Debra Carter, who manages both the Clifton Road and Midtown Breast Imaging Centers. It also includes a special non-medical team member who makes the day flow exceptionally well by greeting patients and helping to prep patients for imaging.
"Thinking outside the box and hiring people for their great attitude to function in non-traditional roles is a terrific idea!" says Dr. Duong.