Moving on Up: Emory University Hospital Tower
Feb. 13, 2017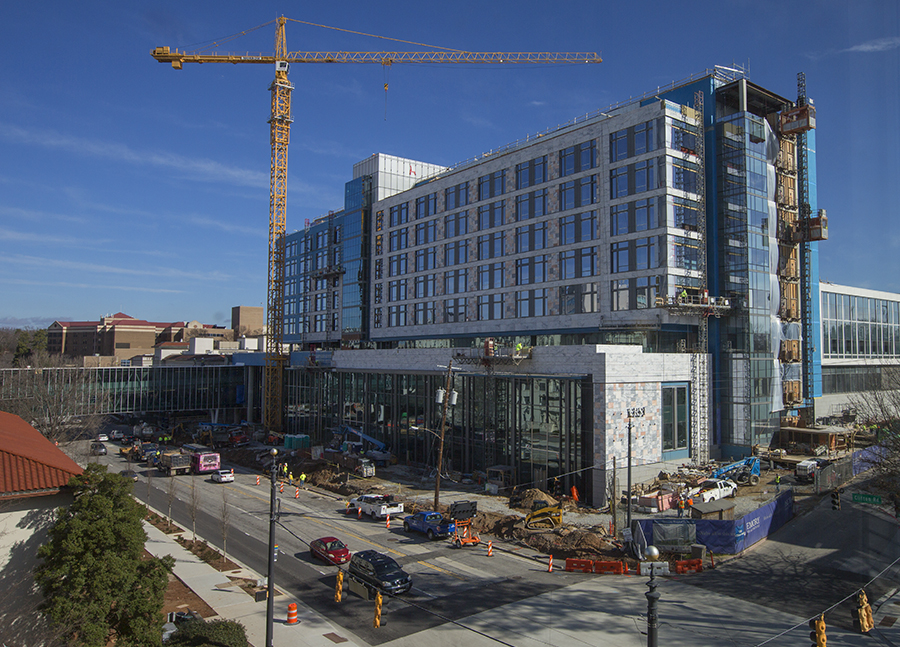 After two years of planning, the Department of Radiology and Imaging Sciences is preparing to move into its newest patient care location: the first floor of the 450,000 square-foot, $400 million Tower (formerly known as the J-wing) on the Emory University Hospital Clifton Campus.

The new space will offer four diagnostic imaging modalities, first for outpatients and then for inpatients, when the 232-bed tower opens sometime late summer or early fall: x-ray, magnetic resonance imaging (MR), ultrasound, and computed tomography (CT).

Designed for and by Patients and Their Families
"Our new facilities in the Tower are specifically designed for our team to provide patient- and family-centered care with state-of-the art imaging technology in a welcoming and highly accessible space," says Jane Vitali, assistant director of imaging services. "From the waiting rooms to the imaging and reading rooms, everything has been crafted not only to maximize patient comfort, but also to improve the efficiency of our team approach. The more efficient and collaborative our team is, the better the quality of patient care."

Designing the space as patient- and family-centered required the input of real patients and families. Emory Radiology's Patient and Family Advisory Council actively informed the design and furnishing of both waiting and patient care areas.

Waiting to Move
Much needs to happen between now and when the first patients can walk through the door. Koy Wellons, the new manager of Emory Radiology's Tower facilities, is in charge of ensuring everything falls into place once construction is completed. The facility will have to undergo inspection by county officials and a "terminal clean" to remove any residual construction materials. After the facility passes inspection and is issued a certificate of occupancy, Wellons, whose office will be in the Tower, and other Radiology administrators can begin orchestrating move-in.

State-of-the-Art Technology
Among the first elements to move are the imaging machines. Perhaps most exciting, says Dale Walker, Emory Radiology's director, strategic initiatives, is a new Siemens CT SOMATOM© Force, providing 4D imaging at half the dose and with dual energy quantification. This is the first location in Georgia to offer this game-changing CT scanner, which is faster and more sensitive than other CT machines in detecting cardiothoracic abnormalities.

Other imaging equipment includes a magnetic resonance imaging machine moving from Clinic A, plus new stationary and portable diagnostic x-ray machines and an ultrasound machine.

The Tower is outfitted with wireless technology to improve workflow and productivity. Technologists using the new portable x-ray and ultrasound imaging machines can immediately transmit inpatients' studies down to radiologists for interpretation. This real-time transmission improves workflow which then enhances the quality of patient care.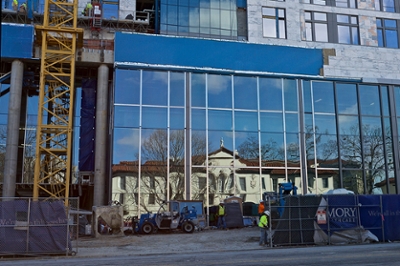 Growth
Emory Radiology's new Tower facilities are designed for growth. The facility will go live with one patient imaging room per modality, but it has the capacity to expand to two imaging rooms for each modality as patient load increases.

The department also is staffing up for the new Tower facilities. The first four imaging technologists scheduled to begin when outpatient services come online are moving from other Emory Radiology imaging locations. Interviewing continues to identify additional technologists for each modality. To learn about other staffing needs, visit  http://www.ourehc.org/departments/human-resources/recruitment-and-retention/internal-career-development/index.html
Preparing with a Day in the Life
Emory Radiology will prepare for providing the highest quality patient care in the Tower facilities with a series of "A Day in the Life" exercises. "Day in the Life exercise is an opportunity for us to test workflows and facility capabilities by simulating a real work day," Vitali explains. "We have scenarios designed for our team members to work through as if they were dealing with real patients in real time on location. In addition to testing workflows for routine patient care, we also might simulate a patient experiencing cardiac arrest during a CT scan. We want to be sure everyone on the team knows how to respond in such a situation before we open our doors for business. That lets us identify where we excel and where we still have work to do so we can be fully prepared to offer the highest quality patient experience for all patients and under all conditions from the moment the very first patient arrives."
Keep Up with Construction
The Rad Report will feature regular stories on projects that include new or expanded imaging facilities. In the meantime, for updates about the Department of Radiology and Imaging Sciences' growth, visit https://secure.web.emory.edu/radiology/intranet/department_resources/expansion-updates.html
To keep up with Emory Healthcare construction, including the Tower, visit https://www.emoryhealthcare.org/expansion/