New Emory-Developed PET Tracer Recommended for Marketing in Europe
April 14, 2017
The Committee for Medicinal Products for Human Use (CHMP) of the European Medicines Agency recently voted to recommend marketing authorization in the European Union (EU) for Axumin™ (fluciclovine (18F)). This recommendation specifically is for Blue Earth Diagnostics to market Axumin as a radiotracer in positron emission tomography (PET) imaging to detect recurrence of prostate cancer in adult men with elevated blood prostate specific antigen (PSA) levels after they completed first treatment.
The CHMP's positive opinion now will be reviewed by the European Commission. If approved, Axumin will be the first and only PET imaging agent indicated for use in men with suspected recurrent prostate cancer in all European Union member states as well as in Iceland, Liechtenstein and Norway.
Emory Radiology's Mark Goodman, PhD, who directs radiopharmaceutical discovery and holds an endowed chair of imaging sciences, developed the radiotracer along with Timothy Shoup, PhD, now at Massachusetts General Hospital. Emory Radiology's David Schuster, MD, associate professor and director of the Division of Nuclear Medicine and Molecular Imaging, spearheaded the translational research work that led to FDA approval of Axumin for use in the United States in June 2016 (see story on FDA approval here).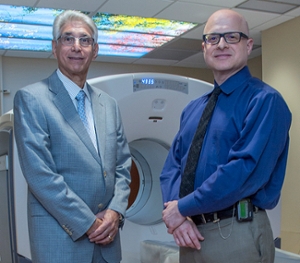 Emory Radiology's Dr. Mark Goodman (left) and Dr. David Schuster
"The positive recommendation by the EU CHMP further validates the excellent work performed here in the development and translation of fluciclovine (18F)," says Dr. Schuster. "This achievement shows that with a cross-disciplinary collegial team such as we have at Emory, and with the necessary resources, great accomplishments are possible. We anticipate our next achievements as we move forward together in collaboration."
Blue Earth Diagnostics is a privately held company focused on the development and commercialization of novel PET imaging agents to inform clinical management and guide care for cancer patients in areas of unmet medical need. Axumin is its first approved and commercially available product.
"This good news is in much part due to the efforts of Emory over the years and we would like to thank you again for that," said David Gauden, PhD, Blue Earth Diagnostics' chief scientific officer.  "We look forward to continuing our productive collaboration going forward."