Getting to Know You: Sandy Cepeda
April 14, 2017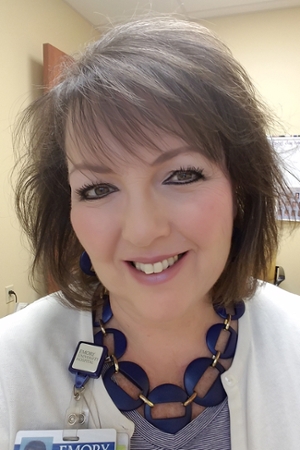 To be a member of Emory Radiology's administrative support team, a person needs to excel at the art of multitasking while saying yes to people, lots of people. Sandy Cepeda, who provides administrative support for the Community Radiology team at Emory Johns Creek Hospital, is a natural. 
"I deal with a lot of people in one day," she says. "On my way to a meeting or just to my office, I help patients or visitors who look a little lost find their way, and then I'm helping our doctors with whatever they need, from urgent requests to routine paperwork like processing expenses. I also do RadPeer reports for the credentialing folks here at Johns Creek, manage ER call schedules, set up meetings, and schedule candidates coming through to interview with the Community doctors."
It could be stressful, but Sandy finds it "very fulfilling to be able to help people and to see how radiologists work."
Email keeps the work flowing. "A "typical" day for me," she says, "is, first thing in the morning, going through all of my emails. Those usually are what set the tone for the day even if I have a long list of "to do's". Most of the time I have to email back and forth with the doctors as they move around a lot."
Working at Emory Johns Creek Hospital suits Sandy well after twenty years in the corporate world, mostly as an executive assistant. "I love it here. From our CEO Margaret Margolis to our volunteers, everyone is phenomenal."
The love for Emory and Emory Johns Creek Hospital is deep and personal. Last year, her brother was diagnosed with lung cancer.  
"I got to see first-hand how Emory takes care of people as patients," Sandy says.
Her brother was treated at both Emory St. Joseph's Hospital and Emory Johns Creek Hospital. "I got to know people in the infusion center here as I sat with my brother and when he was on one of the floors upstairs, it was nice to go up to see him during lunch and after work. The care he received was great. I could see that's how they treat everyone, not just employees."
Sandy's brother now is in remission, but the experience changed her. "Going through cancer with my brother and caring for my mom who will be 100 in July has given me more compassion and patience. I tend to go, go, go and now I realize how time passes so quickly. I am learning to slow down and be more patient."
Patience, superb people skills, and cross-cultural savvy are helping Sandy deliver the same kind of excellent customer service as her family experienced. "I was born in Argentina and my husband is from Mexico, where we lived for seven years. Having lived in different countries and being bilingual helps me adapt to change more easily, I think," she says. "I also understand how confusing the hospital can be for people who weren't born here and so I am able to go the extra mile to help them."
Sandy isn't the only Cepeda working for Emory Johns Creek Hospital. Her daughter, Kelly, works in Breast Imaging. "It's great having my girls home after being away at college," Sandy says, "and even better having one right here where I work."
If pleasing people is what Sandy does for a living, then she unabashedly brings that work ethic home with her. "I love to entertain," she admits. Sandy and her husband, Rick, are looking forward to moving into their new house this spring where there's plenty of room to entertain friends and family, especially their other daughter, Alexis, and her new husband, Zack.
What's at the top of the calendar? "I'm planning my mother's 100th birthday party celebration and she can't wait to party!"