Letter from the Chair
Nov. 19, 2019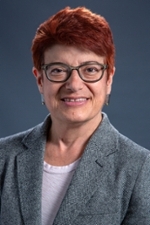 Dear Colleagues,
We have had much celebration in the department lately. During RadTechWeek, we honored our incredible radiologic technologists who are the foundation of Emory Radiology. Our 2nd annual Emory Radiology Diversity Day was an opportunity to take great pride in our journey of valuing our differences and leveraging our collective creativity.  On that same day, I was humbled to deliver my 13th State of the Department address. There is so much we have been able to accomplish together over the past year – a time filled with growth, challenge, and fulfilment. And, our EmPower journey continues with Emory Radiology leading the way. I could not be more proud of the teams that are driving positive change across Emory Healthcare and beyond.    
Plans are underway for the new Health Sciences Research Building – II, with official ground-breaking later this month. The future home of the Emory Center for Systems Imaging is going to be a state-of-the-art research building designed with collaborative spaces for interdisciplinary innovation. It will also be a structure that maximizes sustainability and leverages the natural beauty of adjacent Lullwater Park. 
Soon, many of us will make the annual trek to Chicago for the Radiological Society of North America. At the 2019 meeting, we will spread the word of our work with approximately 75 presentations, courses, posters, and special sessions.  
Best to all, 
Carolyn