Social Media Update
Nov. 19, 2019
by Mohsina Yusuf
It's been a busy quarter for Emory Radiology as far as social media goes. In the past four months, our department reached two big milestones: hitting 3,000 followers on Twitter in October and launching our first Instagram account in September. 
Emory Radiology's Instagram acount will serve as a portfolio spotlighting our diverse faculty and staff, projects, and campaigns. Instagram stories are mostly utilized to share special behind-the-scenes footage around the hospital as well as departmental events to provide an inside look at the second-largest department at the Emory University School of Medicine.
As of November 21, 2019, the official Instagram account has 327 followers in its first two months. The most liked pictures, so far, are of technologists Mariette Komenan and Eric Husband, each with 37 likes. The pictures were shared as part of our Emory Radiology Tech Week social media campaign highlighting three technologists from each Emory Radiology site.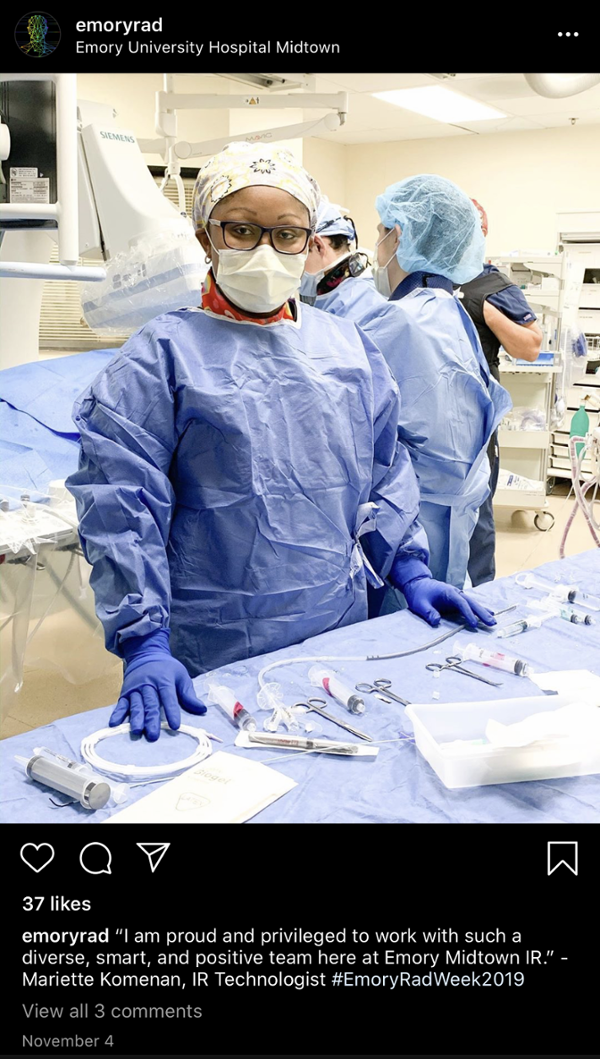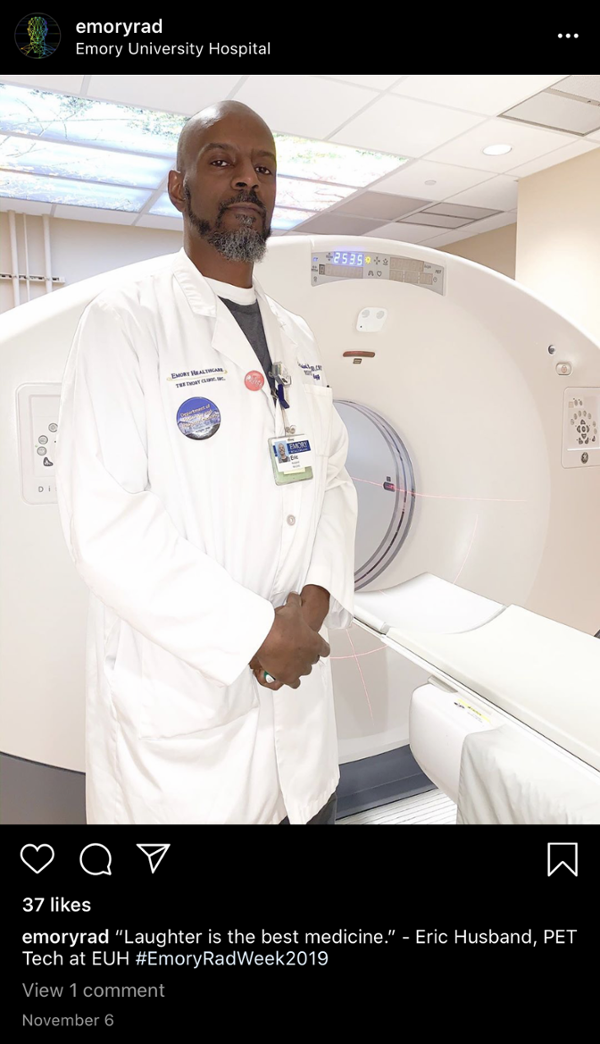 The official Emory Radiology Twitter account has 3,088 followers. Between July 25, 2019 to November 21, 2019, we received more than 239,700 impressions and 359 new followers during this 119-day period. 
Twitter impressions are the total number of times the tweet was seen. This includes the times it appears on followers' timelines, in a Twitter search, or as a result of someone liking the tweet. Twitter engagements are the total number of times people interact with the tweet. It includes clicking on links, visiting the tweeter's profile, replies, retweets, likes, clicking on embedded media, or simply clicking the tweet.
Our top tweet in August was a congratulatory tweet about Dr. Judy Gadde's newest role as the Radiology Clerkship Director. It received 5 retweets, 62 likes, 5,913 impressions, and a 4.9% engagement rate. This was also the top tweet during this quarter because it received the most impressions.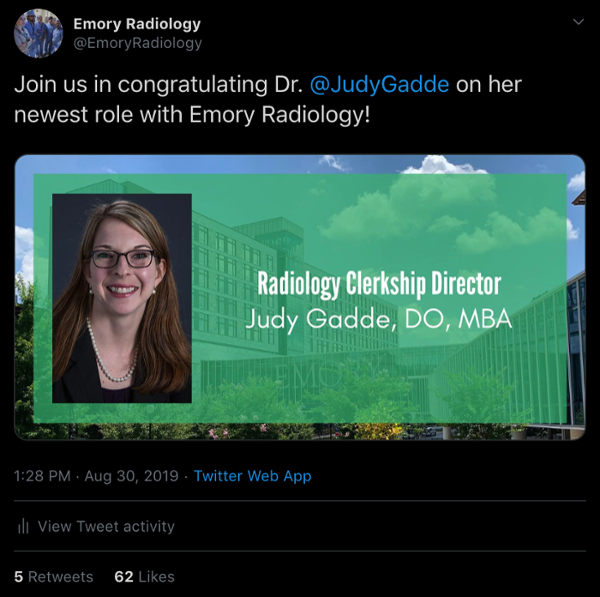 The top tweet in September recognized Dr. Janice Newsome as part of our Women in Medicine month spotlights. It received 12 retweets, 74 likes, 5,805 impressions, and a 3.6% engagement rate. This was also our most retweeted and most liked photo during this quarter.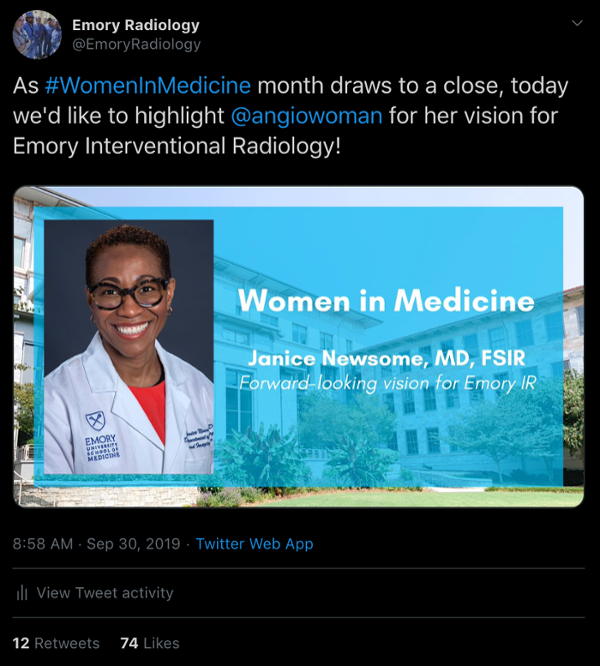 The top tweet in October was the first video of our special Breast Cancer Awareness Month Q&A series with breast imaging radiologists Drs. Rebecca Seidel and Anna Holbrook. It received 9 retweets, 15 likes, 4,565 impressions, and a 2% engagement rate.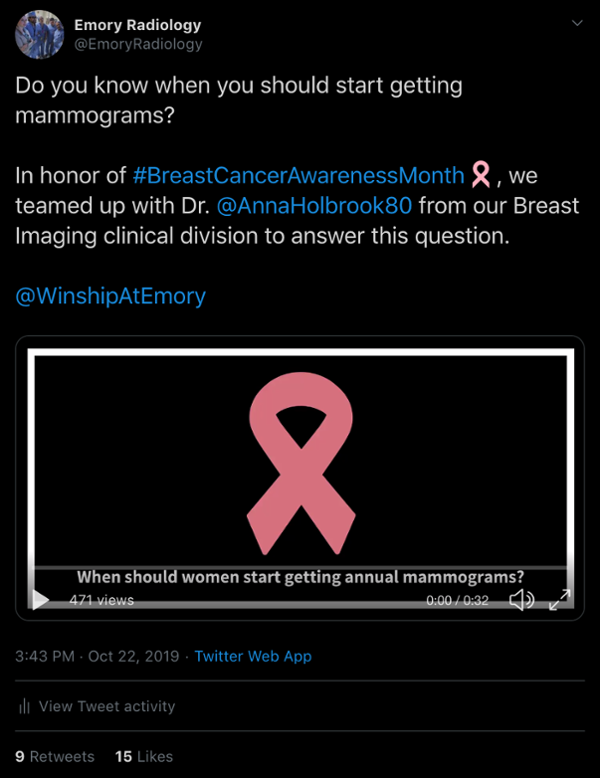 The top tweet in November, so far, was a behind-the-scenes post from our annual Diversity Day and State of the Department Address. It received 3 retweets, 19 likes, 2,244 impressions, and a 6.2% engagement rate.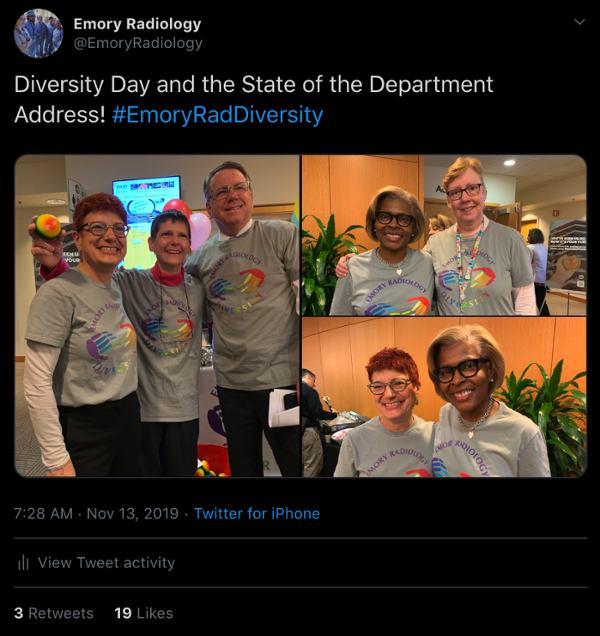 For social media assistance, additional information, or content suggestions, please contact Mohsina Yusuf at mohsinayusuf@emory.edu.