Caught in the Act
June 2, 2015
The "Caught in the Act" program is designed to recognize notable acts of service excellence for which an individual or a team goes out of their way to exceed the expectations of a patient or staff member.  In March and April 2015, two employees were recognized for going above and beyond in support of service excellence.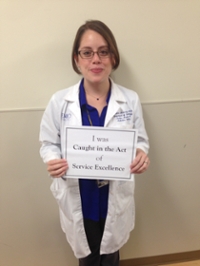 Dr. Moncayo, clinical instructor in Nuclear Medicine, exemplified service excellence earlier this year by personally advocating for a patient with unique health care needs. The patient was recently diagnosed with thyroid cancer and became a candidate for radioiodine ablation treatment. The patient's pre-existing medical conditions (unrelated to her cancer) presented several daunting challenges to coordinating his/her? care. Over the course of several weeks, Moncayo served as an advocate for the patient and a facilitator for the medical team. She engaged with members of each facet of care (including medical staff, nursing, radiation safety, psychiatry, nuclear medicine technologists, and the patient's family) to ensure the best possible outcome.  The treatment was successful and the patient was discharged without incident. This therapy would not have occurred without Dr. Moncayo bringing all the threads together as a true consultant.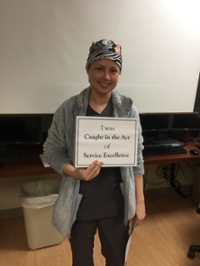 Interventional Radiology technologist Chrystal Goodman was also recognized for going above and beyond for her coworkers and their patients. Late one Friday, after a long day of work, she stayed several hours past her shift to assist with the remaining patients on a particularly busy schedule. She was not the on-call technologist, nor was she scheduled to stay late, but saw that her colleagues needed her help and she responded accordingly with cheerful willingness. She staffed an additional room, prepared procedure trays for others, and helped turnover exam rooms to help expedite the remaining cases. She exhibited excellence through teamwork and showed that "We really are all in this together".

Remember, when you catch someone in the act of service excellence, please tell us the story by following this link to our short and simple online submission form.