First Emory Radiology Diversity Day a Beautiful Success
Dec. 13, 2018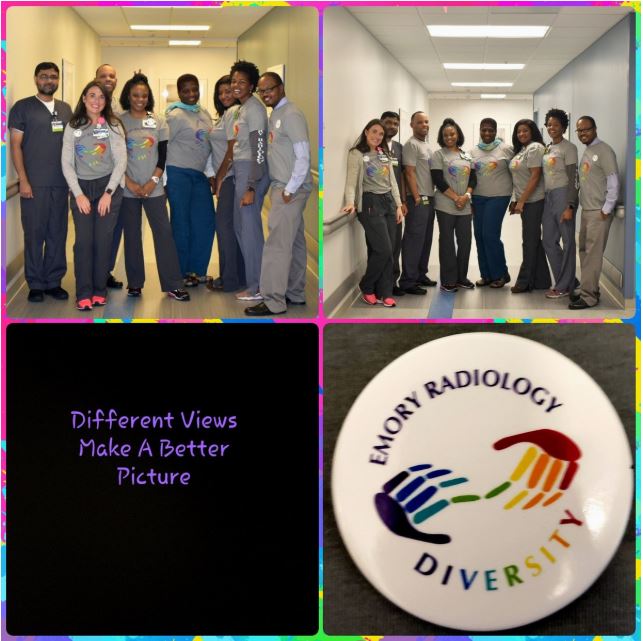 by Sam Marie Engle
Six months of planning paid off, as faculty and staff snapped up more than 400 t-shirts and 700 buttons to wear on the department's first Diversity Day, Wednesday, November 14. The day began with the annual State of the Department address, given by Emory Radiology Chair Carolyn Meltzer, MD, FACR, who proudly wore her grey t-shirt not just for the hourlong presentation, but all day. 
"Diversity Day recognizes the progress we've made on this journey toward becoming a leader for diversity, equity, and inclusion, not only at Emory but also among academic radiology departments nationwide," Dr. Meltzer said. "It also is a time for each of us to renew our commitment to championing diversity, equity, and inclusion (DEI) every day and everywhere." 
Officially an initiative of the department's Diversity Committee and part of the committee's larger Diversity, Equity, and Inclusion campaign, Diversity Day has special meaning and importance for the staff charged with turning an idea into reality.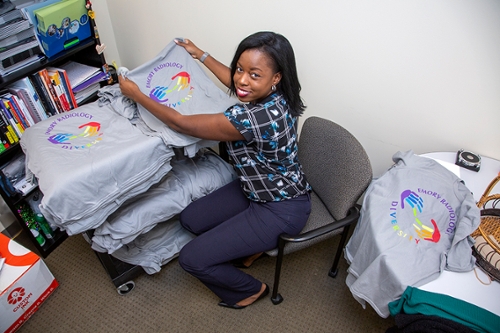 "It exceeded our expectations," says Camille Dingle, Emory Radiology's communications project manager and lead organizer for Diversity Day. "For me, having something like Diversity Day is huge. It means we have a department and a chair who support us, who understand that diversity, equity, and inclusion are not buzzwords, but rather, essential elements of our culture."
The Diversity logo placed on the t-shirt was designed by Emory Radiology's senior graphic designer, Nadia Vance, based on a few suggestions from the Diversity Committee.  
"The Radiology Diversity logo has a stylized x-ray image of touching hands as the main element," Nadia explains. "We're challenging what we think we see on the outside by looking inside. The touching hands represent how we care for our diverse patients, how we support the diverse body of department members, and also how we collaborate with diverse partners across the city and even the country to achieve our missions. The seven bright colors were chosen to show that the Department has moved beyond "black-and-white"—both with imaging sciences and with its people—and is celebrating diversity, pursuing equity, and fostering inclusion across many dimensions. The subtle message is: we are all made of the same bones - no matter what our age, gender, ethnicity, sexual orientation, religion, background, etc."
Buttons also were created for clinical care staff who must remain in hospital uniform while caring for patients. These essential care team members continue to wear the buttons, further promoting the department's DEI campaign. 
To add excitement and promote involvement, the Diversity Committee held a slogan contest. From 65 entries, the committee chose Different Views Make a Better Picture, submitted by IR Director Dr. Janice Newsome. This slogan was placed on the back of the t-shirts.
A special Twitter hashtag, #EmoryRadDiversity was created so divisions, teams, and sites could share photos of themselves celebrating on Diversity Day. See special Twitter moments at https://twitter.com/i/moments/1063413870184841218.
"We started with the t-shirt and button because they're something everyone can wear and they're noticeable," explains Camille. "We wanted the t-shirt to turn heads, not just on Diversity Day but anytime and anywhere one of our team members wears it. We want people to see them and think, "Hmmm, what are we doing about diversity, equity, and inclusion?"
"To our knowledge, we are one of a few radiology departments to mount such a visible campaign in support of diversity, equity, and inclusion," says Camille. "We do hope others will be inspired by what we're doing."
To continue building awareness and competence around diversity, equity, and inclusion (DEI), the committee also is sending out monthly "Did You Know…" emails. Each email explores a DEI concept, provides points for discussion, and highlights resources available for training and skills-building. The campaign is tied to the Emory Radiology DEI Toolbox, available on the Emory Radiology Intranet at http://www.radiology.emory.edu/about/div-toolkit.html. September's email looked at microaggression while October focused on diversity. November explored inclusion and December, the season of giving, shone a spotlight on equity.
Camille says talks are underway with Emory University's Office of Equity and Inclusion about opportunities for collaboration on training and other programming.  
"We're just getting started and we're excited to see where this journey will take us."