Quality Update
Dec. 13, 2018
By Sam Marie Engle
Over the last few months, the Quality team has been growing both in size and in effectiveness.  
"Our intent is to improve care delivery in the department for the benefit of our patients and their families and to improve care processes to support our staff, faculty and trainees," says Vice Chair for Quality Marta Heilbrun, MD, MS.  
The team is working to develop tools that address specific priorities but also can be adapted systemwide, from Emory University Hospital and Emory University Hospital Midtown to Grady Hospital and Children's Healthcare of Atlanta.  
The team includes both faculty and staff members with wide-ranging expertise. Joining Dr. Heilbrun are Chief Quality Officer Phuong-Anh Duong, MD, who specializes in cardiothoracic imaging and CT dose reduction; Enterprise Manager of Quality in Imaging Services Susan Reich, BS, RDMS, who has advanced training in quality; Quality Program Manager Pratik Rachh, MD; and Director of Technology and Innovation in Imaging Services Starla Longfellow. The team also includes Director of Pediatric Neuroradiology Nadja Kadom, MD, who specializes in quality for both pediatric and neuroimaging patients; Director of the Division of Abdominal Imaging Deb Baumgarten, MD, MPH, FACR, FSAR; and Physician Lead for the Ultrasound Quality and Safety Committee Courtney Moreno, MD, who also is director of ultrasound. CT Physicist Rebecca Neill, MS, co-leads the CT Quality and Safety Committee with Matt Zygmont, MD, whose expertise is emergency and trauma imaging.
Focus: Workflow Efficiency in Interventional Radiology
The Quality team has been working closely with the Division of Interventional Radiology, led by Janice Newsome, MD, to optimize care. The nature of IR medicine creates myriad challenges for treating patients in a timely manner, so the team has been analyzing opportunities to increase process, resource allocation, and staffing efficiencies. 
"It's our job to understand the sources of challenges," explains Dr. Heilbrun. "We look at everything from defining the start and end of a case, to radiation dose monitoring, to scheduling metrics. It's really a collaborative approach with Dr. Newsome and her IR team to improving workflow for inpatient and outpatient IR care."
Morgan Whitmore, MD, a new faculty member in IR, spent the month of August building templates in order to improve the process of scheduling patients for interventional radiology procedures. Starla Longfellow relatedly has been working with the IR scheduling team in order to better understand all the work that goes into scheduling an individual patient for a procedure. Together these projects aim to improve communication with IR patients and provide them with reliable expectations of what their experience will be like when they undergo image-guided procedures, from what time to arrive and how to prepare for the procedure to the length of time they can expect to be under Emory Radiology's care.  Collaboration also means engaging Emory Radiology's CT physicists Shalmali Dharmadhikari, PhD, and Rebecca Neill, MS, to work on dose reduction and safety for both CT and angiographic image-guided procedures. 
Focus: Reducing MRI Wait Times for IECD Patients
The Quality team has been working with MRI scheduling to expedite service for patients who have implantable electronic cardiac devices (IECDs). Over the last few months, they've shortened the time between a physician's submission of an order and the scheduled date of the IECD patient's MRI from an average of 39 days to 27 days.
"It's a huge improvement," says Dr. Heilbrun. "We haven't made the process any less complex, but we have created a transparent workflow process that leverages a database developed by Pratik Rachh to track patients from initial referral through scheduling" at Emory University Hospital and Emory University Hospital Midtown. 
Focus: Process and Communication  
Other projects include the following:
Holding weekly Quality Team meetings for reporting project progress and outcomes as well as for teaching quality methodology to build capacity and expertise;

 

Developing a tool for monitoring turnaround times for STAT head CT examinations at Emory University Hospital;
Standardizing the work flow for monitoring and measuring the use of two unique identifiers for each patient to ensure the right patient is prepared for the right imaging study at the right time at Emory Saint Joseph's Hospital and Emory University Hospital;

 

Working with leadership at both Emory University Hospital and Emory Midtown to develop a daily huddle board for the clinical care teams to communicate about modality resources and capability; and
Optimizing the care of patients in the Emergency Department at Emory University Hospital who need CT imaging.
Focus: Lean Leader Training
Twenty-five of Emory Radiology's leaders have completed Lean Leader training from Emory Healthcare's Lean and Operations Excellence Team held December 4-7. 
Joining Quality team faculty members Dr. Heilbrun, Dr. Duong, Dr. Baumgarten, and Dr. Zygmont from the Emory Radiology Executive Team were Emory Radiology Chair Dr. Carolyn Meltzer, Vice Chair for Clinical Affairs Dr. Amit Saindane, Vice Chair of Informatics Dr. Nabile Safdar, Vice Chair of Education Dr. Mark Mullins, Vice Chair of Policy Dr. Richard Duszak, Chief of Radiology Service at Grady Hospital Dr. Laura Findeiss, and Executive Administrator and Vice Chair of Administration of  Radiology and Vice President of Radiology for Emory Healthcare Greg Hill, JD.  Other participating physician leaders included site directors—Dr. Omari Johnson representing Emory University Hospital Midtown, Dr. Kush Singh representing Emory Saint Joseph's Hospital, and Dr. Howard Fleishon representing Emory Johns Creek Hospital. Staff leadership included Administrator for Academic Affairs Deb Smith; Director of Imaging Services for Emory University Hospital Midtown Mike Armstrong; Clinical Operations Administrator Willie Arnold; Director of Imaging Services for EUH and Emory Orthopaedic and Spine Hospital Greg Pennington; Assistant Director of Imaging Services for Emory Saint Joseph's Hospital Laura Benson; Clinical Director for Interventional Radiology Angela Kramer; Director of Outpatient Imaging for the Emory Clinic Michael Barber; Director of Imaging Services for Emory Johns Creek Hospital Chrystal Barnes; and Director of Technology and Innovation in Imaging Services Starla Longfellow. 
Susan Reich and Pratik Rachh will complete the Core Team Facilitators Training with 50 colleagues from across the system who also support DMS efforts at each location. These leaders all then will refine and implement plans based on the learning.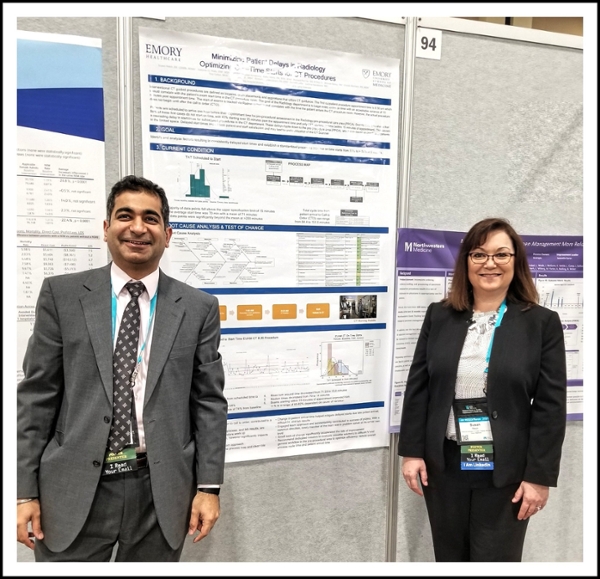 Pratik Rachh, MD and Susan Reich, BS, RDMS the department's quality work at Institute for Healthcare Improvement annual conference.