2018 Adopt-A-Resident Awards Fund Innovation
April 17, 2018
Alex Dabrowiecki, MD, and Anna Trofimova, MD, want to harness the power of technology to enrich radiology resident training at Emory. Their ideas so wowed radiology and imaging sciences faculty, they both were "adopted" for funding through the Adopt-A-Resident program.
"We received many excellent applications this year, and it was tough to choose the winners," says Anna Holbrook, MD, assistant professor and chair of the selection committee.  "All of the applications were interesting and would be of great value to our department. In the end, we thought that Alex's proposal was exciting and unique, and could make a big impact on residents, our department and university, and especially on patients.  Anna's project builds on the success of a prior Adopt-a-Resident project and will greatly improve resident education."
Since 2008, the Adopt-A-Resident program has funded sixteen projects led by seventeen diagnostic radiology residents. More than a dozen faculty members have served as mentors, guiding—but not directing—the residents in project design and execution.
As. Dr. Holbrook notes, adopted projects frequently build on the work of prior adoptees to further enrich resident training. For example, Alex Dabrowiecki's project, "Radiology at Emory Medical Innovation (REMI) Track," complements the work of Dexter Mendoza, MD, who used his 2015 award to help create academic teaching and research tracks, and by Patricia Balthazar, MD, who is developing the Integrated Imaging Informatics Track (I3T) with her 2017 award.
Anna Trofimova's project, "Neuroanatomy Live: An Interactive Curriculum for Radiology Residents and Fellows Using 3D Printing Technology," leverages both the 3D printing equipment and the experience from resident Sean Goodin's 2016 project "Versatile 3D Printed Training Models." Both Anna's and Sean's projects build on earlier work by Ryan Peterson, MD, assistant professor, whose 2012 Adopt-A-Resident project developed high-resolution virtual visual anatomy teaching modules.
Learn more about the 2018 grantees and their projects below.
Alex Dabrowiecki: Radiology at Emory Medical Innovation (REMI) Track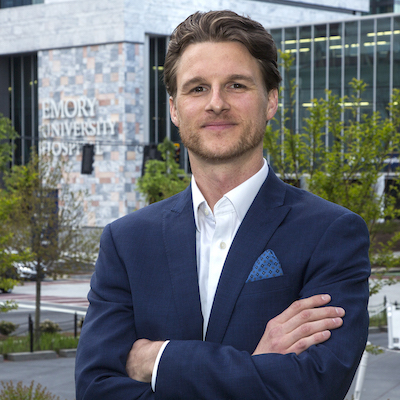 Alex Dabrowiecki sees his proposed Radiology at Emory Medical Innovation (REMI) Track as a logicaladdition to the residency program.
"I chose radiology because of the exciting manipulation of technology that drives our contributions in medicine," Alex wrote in the proposal. "Even as a hard-working and capable (albeit junior) resident attempting to bring a solution of mine to fruition, I quickly stalled realizing product development was never part of my formal academic education."
His proposed REMI track would combine didactic education with hands-on learning to equip residents with the knowledge and skills necessary to turn a good idea into a marketable product. Participating residents would attend monthly lectures on the theories and tenets of entrepreneurship and product development during their first two years of residency. Half-day "hackathons" would allow residents to work in teams on challenges to build their skills. Residents also would attend technology and innovation events, both for learning and networking. REMI-track residents in their third and fourth years of residency then would conceive and develop a prototype technological solution with an accompanying business plan as a capstone project. Residents would have support and help from the biomedical engineering program at Emory and Georgia Tech as well as from Emory Radiology faculty and Emory's Office of Technology Transfer. 
Alex will devote this year to creating the curriculum and recruiting faculty for the planned lectures and other activities. Once the work is completed and approved, the REMI track would launch in 2019. Alex's faculty mentors are Dr. Zachary Bercu and Dr. Janice Newsome.
The project means a great deal to Alex. "I am extremely excited to have the opportunity to lead and advocate for medical innovations within our residency and furthermore translate these skills to build my own startup in the future," he says. "This track will not only increase my confidence and proficiency in innovating solutions for the variety of problems I will encounter throughout my career, but also develop leadership skills required for radiology and business."
Anna Trofimova: Neuroanatomy Live: An Interactive Curriculum Using 3D Print Technology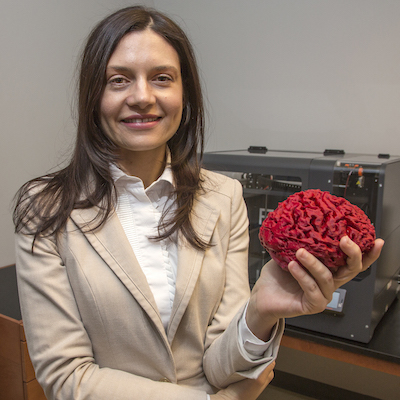 Anna Trofimova hopes "Neuroanatomy Live: An Interactive Curriculum for Radiology Residents and Fellows Using 3D Printing Technology" will make it easier for residents to master the complexities of neuroanatomy. 
"Radiology is one of, if not the most rapidly developing technology-driven fields in medicine, and we as radiologists work with an increasing number of different imaging modalities and techniques," says Dr. Tromifova in her proposal. "Emory Radiology trainees are very lucky to have the 3D printer available for their use, however residents' exposure to this technique is practically absent at this point which I believe tremendously limits the potential for its use for educational and research purposes."
Anna will develop a neuroanatomy curriculum with six workshops spread over two years that focus on neuroanatomic information relevant to radiology residents augmented by hands-on learning with 3-dimenional printed anatomic models of the complex anatomic structures of the brain, head, and neck. Each workshop will allow residents to better see (and feel), remember, and understand complex anatomical and neuroanatomical systems and structures, all essential to effectively interpreting imaging studies and diagnosing pathologies. As Anna notes in her proposal, 3D printing can produce an endless variety of models which can be designed and redesigned as needed; in other words, to continually refine models based on what residents find most useful.  The project also will build a comprehensive online library of mini lectures given by Emory's neuroradiology faculty to augment learning. Called Imaging Pearls of Neuroanatomy, the library of 15-minute videos would have its own YouTube channel and could expand learning to fellows and trainees from other residency programs.
Anna's faculty mentors are Mark Mullins, MD, professor and vice chair for education, and Kristin Baugnon, MD, associate professor. As previously noted, the three-year project also will benefit from collaboration with 2016 Adopt-A-Resident adoptee Dr. Goodin and his mentors, Dr. Peterson and Amanda Corey, MD, associate professor, particularly with implementing the 3D printing technology.
Anna sees great benefit for the project, both personally and professionally. "I'm very excited to have an opportunity to bring together my passion for neuroradiology and cutting-edge technologies to enhance residents' education in our and, potentially, other residency programs. This award opens up a multitude of exciting and unique opportunities for my career development as a future academic neuroradiologist allowing to master my teaching skills and foster my professional growth as an educator in academic radiology."