Lessons in Leadership: A Conversation with Chuck Powell
April 17, 2018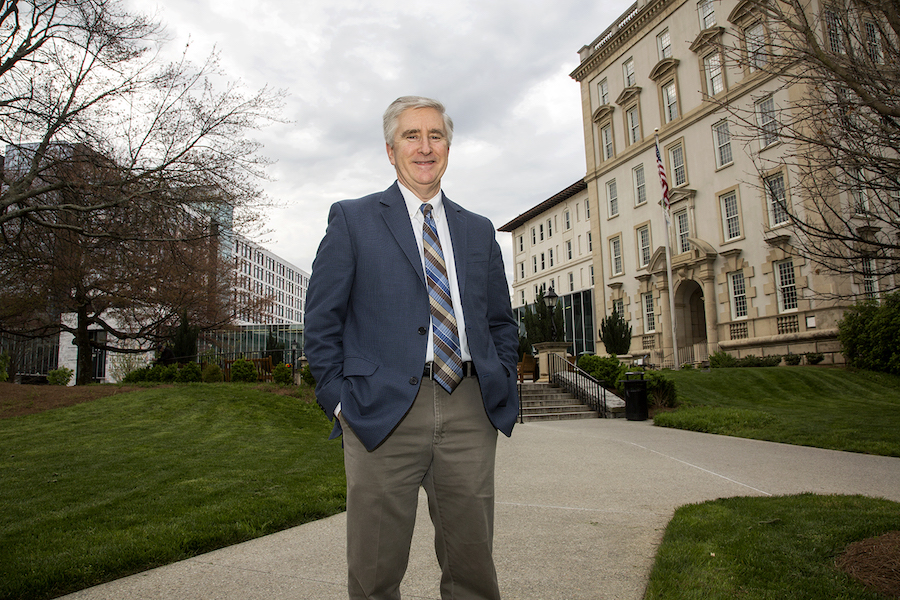 By Sam Marie Engle
On April 7, Chuck Powell said farewell to radiology administration, a satisfying career he plucked from the trash and turned into sixteen rewarding years of care transformation.
It's early March as we sit in his office, chuckling about the unexpected riches in refuse. It really was his wife—she was not his wife at the time—who saw the recruitment ad for an outpatient imaging administrator and fished it out of the wastebasket.
It was an emblematic move on behalf of a man who never throws away an opportunity.
Leading Change
"I love to come into a situation that isn't optimal and make it optimal," he explains. "I get more satisfaction out of that than managing a static situation." Lucky for him, the department is anything but static. That first opportunity to reshape the business side of outpatient imaging turned into a long stream of opportunities to help reshape Emory Radiology itself.
He readily lists some of those changes. "Some things I'm very proud of: access still is a real issue, but we've improved it. We've improved technology. It feels good now that things are safer than they were when I got here. Safer from a CT and MRI perspective and also X-ray. We've made tremendous advances in dose reduction. We're doing exams for the right reasons. Helping to get physicists on staff, I think, is a great contribution that has been made. And facilitating their getting leadership, that, too, is important."
That's not all. "We're financially successful, not to just make money, but so we can do the right things for patients. Improved financials meant we were able to attract top faculty and they in turn attract more funding and better research and education."
He quickly notes he didn't do any of this by himself. "That all took a team effort. The way the staff bought into it was amazing. And, of course, Carolyn. She's really pushed change, has turned vision into action. And Dan MacFarlane is the man behind the curtain. He had a large hand in turning around the department financially."
The Timing of Change
As Chuck sits back in his chair and smiles, he looks different. Certainly, the green sweater pulled over an open-collar oxford is a departure from his signature grey suit and striped tie, a softer look for a man who seemed to thrive for so long on edges. But it's something more than a wardrobe change. It's about the edges themselves: gone is the flint from eyes that can read a room before the participants fully heat their seats. Absent is the angularity in fingers constantly stabbing a phone screen. The neck isn't articulated at improbable angles, neither bent to read another email nor cocked to assess competing ideas. Conversation flows, indeed, words tumble from him as if the decisionmaker's carefully constructed guardrail has been removed.
In short, the man whose job titles regularly grew in length and lift is visibly lighter now that he's losing executive liability.
It all seems rather sudden, so, the natural question is, why now?
"I've been contemplating doing what I'm going to do for many years but I stayed here because of the people, the way they've touched me." He leans in. "I'm really motivated now by helping people. I like going in and making it better for people. I feel energized by working with people but that's one thing I miss in my current job—interacting with people."
It's the opportunity cost of the corner office: responsibility for more people means less opportunity to interact with those people. At the same time, he says, leaders benefit from engaging people in collective problem-solving, something he and Emory Radiology leadership have strived for.
 "We can be so focused on data and objectives and satisfying people above us we don't spend enough time with people doing the work (but) the leader's job is to facilitate the answer-finding, not to have the answers." His words have fire, flint. "The really cool thing is getting people to have insight, getting them involved in the solution; listening to them about what needs changing and how to change it. I think people miss that about leadership but, to me, that's a peak experience."
Chuck's looking forward to more peak experiences directly interacting with people who lead people. He's building a coaching practice, one in which he provides one-on-one guidance to healthcare executives.  His wit and wisdom are valuable. In 2015, he earned a PhD in leadership and change from Antioch University. Last year, he won Aunt Minnie's Most Effective Radiology Administrator award, a national honor for excellence in managing medical imaging operations, facilitating leadership development, and steering organizational change.
He'll continue teaching courses on leadership and change management at the Philadelphia College of Osteopathic Medicine at the Georgia campus, something he really enjoys doing. He has an adjunct faculty appointment here in Emory Radiology, too. There's also a book in the works and an opportunity to take his message on the road.
The change, then, really isn't sudden. "I've been increasingly torn between my outside interests and doing a good job here. I have really great people around me here and that has made my work so rewarding. But I was starting to feel like I couldn't give them my all. It was time to let go."
Investing in People
We talk about the way Emory Radiology invests in its people, invests in continuous learning and leadership development so changes like his departure become opportunities, not challenges.
"I look at RLA and the effect it's had on our people and how people have affected it…I never anticipated how RLA would break down barriers to the degree it has, or that it would last this long. By bringing people together from diverse backgrounds, they not only develop perspective, they collaborate with each other to get things done. When we were first putting together RLA, we didn't have faculty involved because we didn't think faculty would be interested. Dr. Meltzer asked why not? Now we have lots of faculty involved. We've gone from putting people in based on their job titles to selecting people who have the most passion for their work and the most potential to take the opportunity and makes something of it. As a result, there's less division between faculty and staff, between clinical administration and clinical care providers. We have very collegial relationships between physicians and other staff and not every department can say that. That's how you grow the department. You invest in the people who want to invest themselves and be invested in, people who will apply what they're given."
He heaps admiration on the team responsible for RLA on a daily basis, people who clearly apply the lessons learned from their time in RLA. "Deb (Smith) and Carol (Dowdle) and Willie (Arnold) and Greg (Pennington) have really done the work, adapting the RLA from year to year. I have little to do with it now; it has grown and improved because of them. I never expected it to be this effective. People stay engaged in it, even after they graduate."
We return to the upcoming transition and how three of those leaders—Deb, Willie, and Greg—will temporarily handle different aspects of his portfolio. He frowns at the idea of big shoes to fill.
"I would look at it in a different way. Because I grew up in the system, I have organizational and institutional knowledge of both the university and the hospital systems and that made it easy for people to come to me. This change is a real opportunity for the organization, for people to be empowered to take care of problems right there where they encounter them. The longer a problem lingers waiting for a higher-up, the less effective the process is. We need to disperse the knowledge and power. If the organization builds in the approach of reflect, analyze, and correct, we'll be well-served. This current strategic planning process gives us the opportunity for that change."
The Last Word and the Next Step
Emory Radiology has been very well served by Chuck. What will serve Chuck well now?
 "I want to do a few things really well, not a bunch of things in a mediocre way. I want to live a more mindful and meaningful life. I really want to make a difference and notice the world. The world is so beautiful, but we don't take the time to appreciate it. I intend to appreciate it."
We easily could spend another few hours talking but a "ping" reminds us others are waiting their turn for time with Chuck. There's one last question: if this were a TV show and you got to deliver the last lines, what would they be?
A trademark half-smile buys him time. So, too, does his earnest, "I really wish everyone well."
And then, just before we stand, he says, "There's no one right answer or silver bullet. Your whole life you work on the recipe, but it's subject to the situation, the people. People want a template but a template won't work. You have to put yourself out there to learn. You have to be willing to know what you don't know and to let others know you don't know. We got better because we were willing to try. Be willing to risk. Keep experimenting. Keep failing. And you'll find what you need. Not what you want, but what you need."
For sixteen years, Chuck Powell has given Emory Radiology the administrative leadership it needed. In letting him go, the enterprise is returning the favor, giving him what he now needs, plus our deepest thanks and very best wishes.