Merrill Award Update: Winners and Program Enhancements
April 17, 2018
A year after its return, the Merrill Award is inspiring rad techs across the Emory Healthcare enterprise to make every image their best one yet. Already providing outstanding imaging quality and personalized, professional care for every patient, Emory's radiography technologists, or rad techs, find a little friendly competition makes their work just a bit more energizing.
"It really means a lot to know your peers think you do award-winning work," says Aurora Marinescu, Merrill Award Selection Committee co-chair and October's winner (click here for her profile).
A tech may self-nominate or be nominated by someone else—radiologist, supervisor, or even another tech. Nominations are due by the last day of the month and should be sent by email to the Merrill Award Selection Committee member representing the tech's location. The three highest scoring images from each site then are sent to the full committee for a new round of scoring. The highest scoring image wins for that month.
The Merrill Award Committee:
Aurora Marinescu – Emory University Hospital, Committee Chair
William Haralson – Emory University Hospital, Vice-Chair
Michael Panas – Emory University Hospital Midtown
Veena Rajeevan – Winship Cancer Institute
Kelli Smith-Fore – Emory University Orthopaedic and Spine Hospital
Jason Smitherman – Emory Orthopaedic and Spine Center at Executive Park
Wilber Pope – Emory University Saint Joseph's Hospital
December: Edgar Martinez-Sandoval, Radiologic Technologist at Emory University Hospital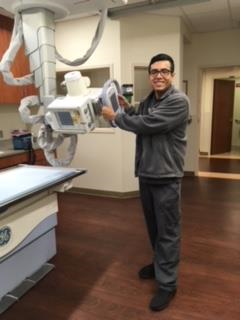 Edgar Martinez-Sandoval, radiology technologist at Emory University Hospital, impressed the selection committee with pristine abdominal imaging using portable imaging technology. The quality of the imaging is even more impressive considering Edgar completed school and started with Emory in August 2017.
"I never deviate from what I learned in school," Edgar explains as one of his award-winning imaging strategies. "It all comes down to patient positioning and that depends a lot on communicating well with the patient."
Edgar is very careful to avoid using medical jargon when talking with patients. He also takes time to explain what he's trying to capture and how the patient's position will help him get the image just right. "We have to work together like a team."
What does winning the Merrell Award mean to him? "It's really motivating and positive reinforcement; it means I'm doing things right and taking great images. It also motivates others around you to take better images."
His supervisors sing his praises. "Edgar is hard-working and dedicated to the craft. He goes above and beyond when it comes to taking care of his patients, and it is displayed in his work quality as well as his work ethics," says Dwania McGhee-Collier, diagnostic radiology supervisor for Emory University Hospital.
January: Alex Munoz, Radiologic Technologist at Emory University Hospital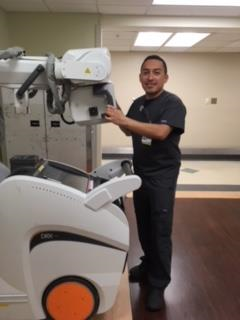 Alex Munoz joined Emory Radiology in September 2017. Just a few months later, his out-of-the-box thinking and commitment to excellence earned him the January Merrill Award for a beautiful x-ray taken under difficult circumstances.
"It's not like in school, where everything's perfect," says Alex of imaging an ER patient with serious injuries from a car accident.  "I needed a lateral view of his knee but he was in so much pain he could barely move. I had to think quickly about what to do. I put a large sponge block behind his back and a sandbag under his ankle so I could gently roll him into the right position."
The radiologist on call was so impressed with the quality of the images, he later emailed Alex to say so. The radiologist also then submitted the image for the Merrill Award.
"To be recognized like that, to have the radiologist commend me for my work and then nominate me for an award, that really means so much," says Alex. "I feel really good and accomplished and it encourages me to keep working hard."
Alex also says the award makes him feel like all his "hard work in school has paid off." He graduated less than two years ago and he still remembers the challenge of attending classes full time while working part-time to make ends meet. He wanted a career where his work mattered, where he could use his skills to make people feel good, and he's found it.
"At the end of the day it really is all about patient care," he says. "We (technologists) are an important part of that. I need to get to know the patient and know what's going on with them. It's rewarding and makes me take a better picture. I always remember I'm actually there to help patients get better. I have to get a quality image so the radiologist can make the right diagnosis. That's my mission in this world and I'm doing what I'm supposed to be doing."
February: Veena Rajeevan, Radiology Supervisor for General Diagnostic Radiology/Bone Density at Winship Cancer Institute
Veena claimed accolades as February's winner for her excellent positioning and technique on cervical spine imaging. This is Veena's fourth win (click here for her profile). The two runners-up, both at Executive Park, were Michelle Locke for positioning technique and image quality of a humerus and Tony Peterson for positioning and imaging quality of a spine survey/scoliosis.
Veena also won the drawing for Merrill Award Winner of the Year. Her prize is funding to attend the professional development seminar of her choice. Nancy Stauffer also is a repeat winner, with two awards in 2017 (click here for her profile).
New Year, New Opportunities to Win
Building on first-year success, the Merrill Award Committee is implementing new components to more widely celebrate winners and to help boost participation across all x-ray imaging sites.
The monthly prize for 2018 Merrill Award winners is a $20 Amazon Gift Card.
Supervisors of award-winners will receive notification of the win so the supervisors can share the good news (brag about) the winner during monthly supervisor meetings.
Each month, a special RADCOMM REPORT will go out to all x-ray technologists across Emory Healthcare announcing the winner and two runners-up.  This will complement the special profile feature in the Rad Report.
Monthly winners and those scoring second and third place will receive an Emory Healthcare E-card as well as points in E-Recognize.  
All monthly winners will be entered into a drawing for the Merrill Award Winner of the Year, which will be funding to attend the professional development workshop of their choice.