Emory Radiology Matches with New Class of Residents
April 17, 2018
A new cohort of young doctors will head to Atlanta next year to begin their residency training with Emory's Department of Radiology and Imaging Sciences. Fourteen young men and women, three of whom will graduate in May from Emory School of Medicine, have matched into the Diagnostic Radiology Residency program and another four, including one from Emory, matched into the Interventional Radiology Integrated Residency program.
The good news came on National Match Day, which this year was Friday, March 16. That's when the National Resident Matching Program® (NRMP®) notified both residency programs and graduating medical students across the U.S. and Canada where they would complete residency training. These new residents will arrive at Emory in June 2019 after they complete their required one-year internships.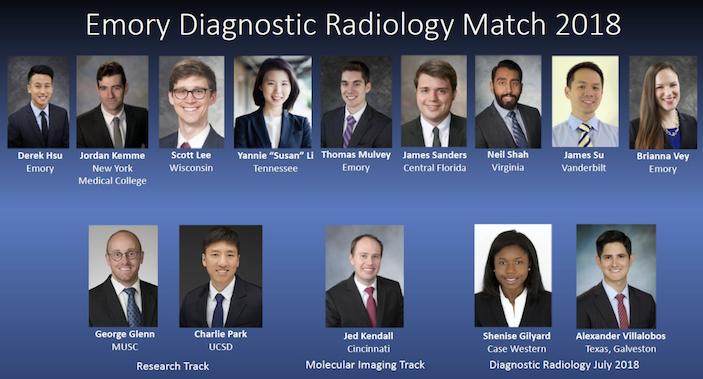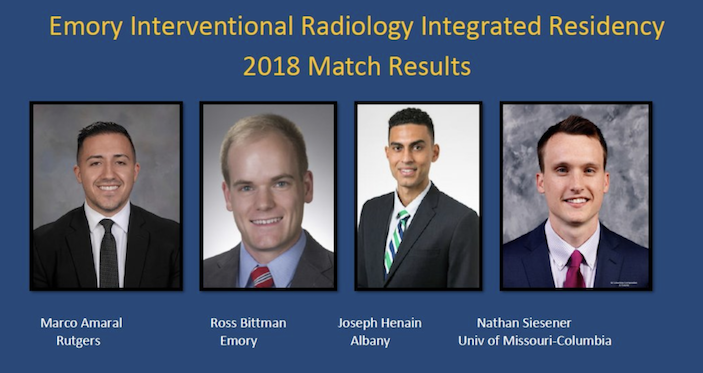 This was the second Match process for the Interventional Radiology Integrated Residency program, which was approved May 2016.
"IR was the most competitive match in the country—an amazing achievement in only its 2nd year of full implementation through the NRMP," says Gail Peters, MD, assistant professor and director of the Interventional Radiology Integrated Residency program. 
Applicants each applied to 25 to 40 programs, Dr. Peters explains, which means the top candidates were heavily recruited.  "We matched with our top candidates, which is incredible when one considers the competitiveness of the applicant pool."
"Our matched applicants are a remarkable group, and we are very proud, indeed," she says. "These four new trainees join a group of four from last year—giving us a truly diverse group of highly intelligent and accomplished individuals." The two classes comprise 50% women and trainees of color. 
The matched applicants for the Diagnostic Radiology Residency program are equally impressive. "Once again, we have matched with an outstanding group of young doctors," says Christopher Ho, MD, assistant professor and director of the Diagnostic Radiology Residency Program. "They have trained at some of the best medical schools and bring a wealth of talent."
Since last match, Emory IR was granted ACGME accreditation for an IR-Independent Residency with 6 spots.  The Diagnostic Radiology Residency has approval for 3 Early Specialization in Interventional Radiology (ESIR) positions.
Dozens of Emory Radiology faculty plus the chief residents were involved in the three-month process to identify top candidates for the two residency programs. Top candidates were invited to Emory for an intense vetting process. That process includes both formal interviews with faculty and informal gatherings where candidates get the inside scoop on residency from current residents.
The department then sent its final rankings of the candidates for each program, and candidates sent their preferences to the National Resident Matching Program®. NRMP is a private, non-profit organization established in 1952 to provide a fair, organized mechanism for matching the preferences of more than 40,000 applicants with the preferences of residency program directors looking to fill about 30,000 residency positions.