Getting to Know Laura Benson
July 23, 2019
by Mohsina Yusuf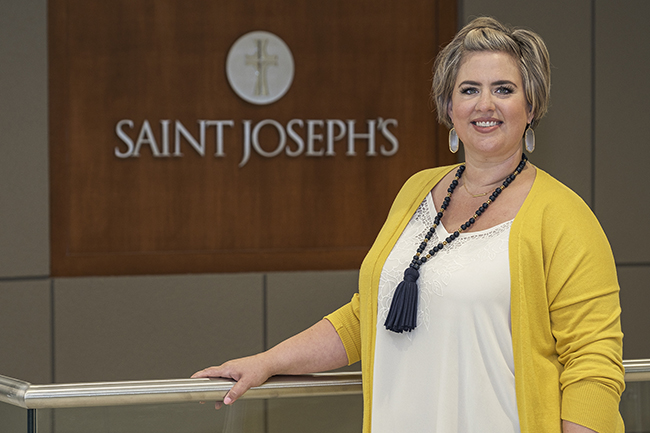 For Laura Benson, a career in healthcare just made sense. Her mom was a nurse and one of her hobbies was reading medical encyclopedias when she was younger. Today she is the assistant director of imaging at Emory Saint Joseph's Hospital, a loving mother of three boys, and a game changer for Emory Radiology.
Laura spent nine years at a private practice where she did everything from front desk to surgical coordination to helping out during expansions. After having her first child, Doyle (10), she wanted something with more flexibility because private practices had demanding hours. Emory Radiology came knocking with an opportunity that worked out even better than she hoped.
When she first started here, Laura thought she would be here for a few months before moving onto private practice again. Five and a half years later, she's still here and playing a pivotal role for the department.
"Coming here was such a great intersection of people with the same goal," explains Laura. "I found the place where I can be my best self, function at my highest level, and have room to move up and develop."
A typical workday for Laura starts as early as possible. "I check in with employees to see what's going on, go to a huddle first thing to survey it, and then come to my own Tier 2 huddle at 8:30 before going to another one for the hospital." 
Some mornings, you might catch her in her office working on strategic planning. Others you might see her in different areas of the department checking in on improvement projects. In the afternoon, she typically rounds different areas and attends meetings for LEAN.
Laura really values work-life balance and tries to get her work done at the office to avoid bringing it home with her. That doesn't stop her,  however, from implementing some ideas from work in her own home.
"My hobby is finding my balance. I have a huddle board at home with our family's daily management system, and my kids are familiar with LEAN."
With her dedication to her roles as mother and wife and the assistant director of imaging, it's not hard to understand what keeps her at Emory Radiology. "The people, the patients, and the team I get to work with," shares Laura. "I'm so blessed to have a really strong team that wants to do the best thing every single time. Our department specifically developed a culture of constant leadership development."