Radiology Leadership Academy Graduates Tenth Class
July 23, 2019
by Mohsina Yusuf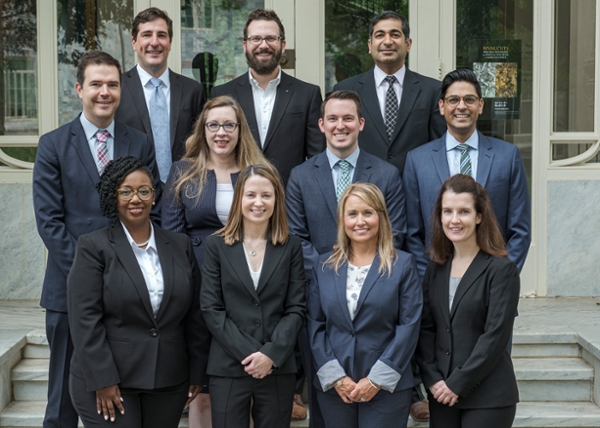 On June 7, Radiology Leadership Academy (RLA) graduated their 10th class. RLA is a leadership program designed to emphasize the goals of faculty and staff excellence, their growth as a leader, and achieving top-ranked status for our research programs. This year's graduating class was compromised of 11 faculty and staff members across Emory Radiology who then split into three groups, each one full of ideas on bettering not just the Department of Radiology and Imaging Sciences, but Emory Healthcare as a whole. 
Team PASE's project, "No Sweating Over Vetting," focused on improving the vetting process for procedures. Team PASE Members Erin O'Connell, Sumir Patel, and Adam Prater collaborated with the division of Musculoskeletal Imaging to critically evaluate and streamline the procedure vetting process. They examined the three types of vetting in the department: procedure vetting, exam vetting by technologist, and protocolling. From there, they designed a workflow to leverage technology and eliminate waste with the goal of improving patient service and outcomes and increasing overall efficiency of care. Their project aligned with the department's strategic plan priorities of Employee Experience, Service and Outcomes, One Emory Radiology, and Innovation.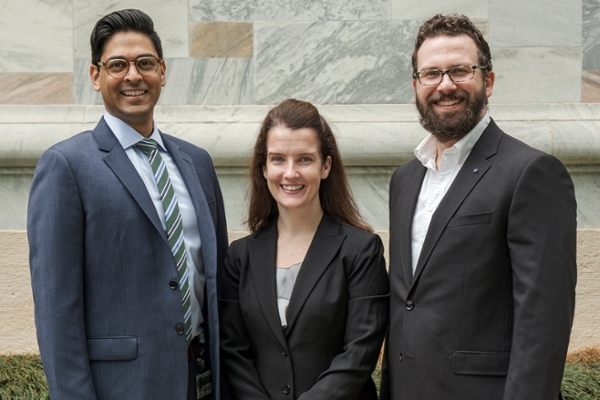 From left to right: Sumir Patel, Erin O' Connell, and Adam Prater
The second group, Team One Vision, consisted of Troy Cotton, Erin Grady, Deborah Thomason, and Brent Weinberg. Their project, "Enhancing Patient Educational Resources for Imaging Studies and Procedures" focused on improving patient education and communication before a radiology procedure. It is important for patients to be well-prepared and well-informed prior to an imaging exam or procedure because this helps ensure an on-time start to a high-quality exam. With a distinct focus on PET/CT, they created a suite of educational materials that ranged from videos to rack cards to reach patients.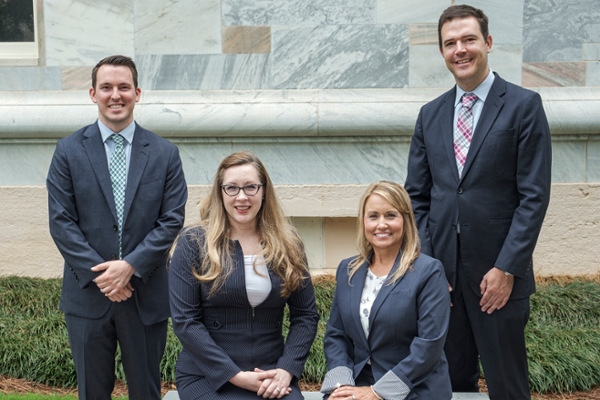 From left to right: Troy Cotton, Erin Grady, Deborah Thomason, and Brent Weinberg
The final group, Team A-Maze, presented their project, "RadSpot: Recognizing Amazing Work in Radiology." Team members Meg Fleming, Felicia Mobley, William O'Connell, and Pratik Rachh set out to improve employee recognition in the department. Their goal was to streamline the different methods for recognizing our growing and diverse workforce, making them more accessible, and improving the awareness of the four programs: Caught in the Act, Merrill  Award, Emory Healthcare Recognize! and The DAISY Award.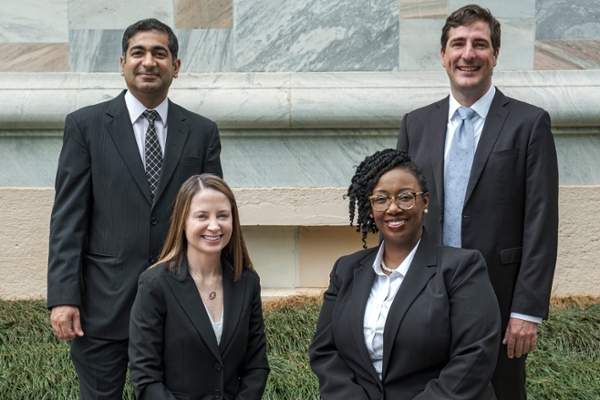 From left to right: Pratik Rachh, Meg Fleming, Felicia Mobley, and William O' Connell
All eleven graduates received their diplomas at the conclusion of the ceremony, and Emory Radiology welcomed the incoming Class of 2020 made up of 12 faculty and staff members. For more information on the RLA program, please visit the American College of Radiology article published by Willie Arnold, Dr. Elizabeth Krupinski, Dr. Carolyn Meltzer, Dr. Charles Powell, and Deb Smith.
To view our tweets during the RLA graduation ceremony, please visit our Twitter Moment for the event.