Letter from the Chair
July 24, 2019
Dear Colleagues,
Happy Summer!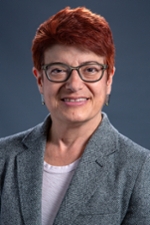 Our EmPower journey continues across our clinical care sites, with huddle boards flourishing and radiology teams leading the way. By optimizing our daily work, we are remodeling both value to patients and to our people. 
Dean Sukhatme recently hosted a connectivity web chat in which he highlighted the strategic plan to re-imagine medicine. The "ABC's" of the plan are Acceleration, Boldness, Connectivity, Data Driven, Engagement and Inclusion, and Fun! A central element of next steps in the journey to eminence is fostering and enhancing key local partnerships and collaborations within and across our missions to create synergistic opportunities. One example of investments to spur such interdisciplinary partnerships is the I3 Venture Research Awards, one of which was awarded to our own Mark Goodman, PhD, and colleague Bob Taylor, MD for novel work on PET tracers for detecting bacterial infections. 
July 1 is closing in and will bring new learners--medical students, medical imaging program students, residents, and fellows--to our world. This annual new beginning involves tremendous effort and a joyful re-energizing. Notably, the entering medical school class is the most diverse in our institution's history. Welcome to all who are joining us!
Best to all, 
Carolyn