Quality Update
July 24, 2019
by Marta Heilbrun, MD, MS
The Department of Radiology and Imaging Sciences was the first department chosen to lead Emory Healthcare's Empower (LEAN) journey. The Quality team has been very busy over the past six months leading the department's efforts horizontally across all our clinical practice sites in conjunction with the Lean Promotions Office. Concurrently, these efforts have been rolling out vertically in every Emory Hospital.
EmPower is the power of every Emory Radiology team member to recognize problems in our workflow and to propose and implement necessary changes. Department leaders are learning to be better listeners and are committing to saying yes rather than no when faculty and staff identify issues and propose solutions. They are learning to be coaches and to support problem solving systematically.
This means that we are all expected to identify and initiate the changes necessary to improve problematic or ineffective processes, rather than wait for someone else to step in and solve our problems. It is also about using the power of visual management and standard work to realize our department's strategic goals articulated in the Designing the Destination strategic plan.  While we realize that improvement is not always immediate, and some trials of new ideas not only may not yield any improvement at all and even can expose new problems, we are committed to leveraging the power of our employees as we continue to strive for exceptional patient experience and the highest quality of health care.
So, what's new?
Daily Management System Huddles
Our department now has 40 live (or soon to be live) tier-one huddles and eight tier-two huddles. Over 67 supervisors, managers, and physicians have been trained to run daily, effective team huddles. The initiative started in December 2018 with initial training for leaders, followed by trainings with leaders at each Emory site in January. 
For Radiology Supervisor Vickie White (pictured below), the daily huddle is a quick visual of what's going on for the day. "The EmPower daily huddles initiative helps me stay organized and the staff feels the same way," she says. "They can come in at any point of the day and see what's going on."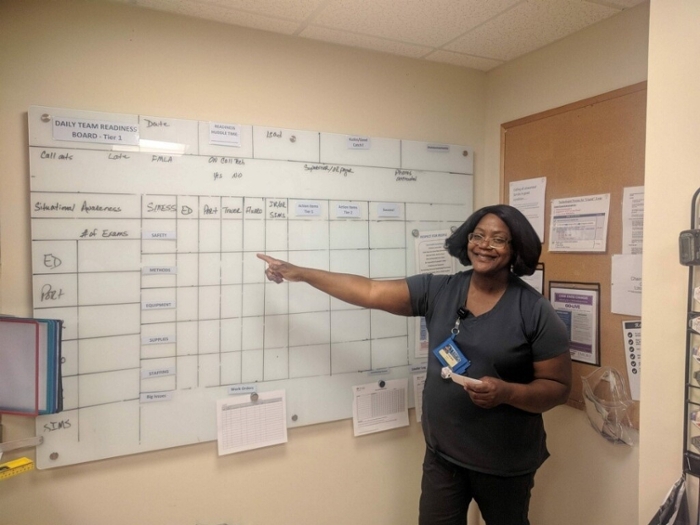 Shawn DuBenion, lead mammography tech at Emory Saint Joseph's, noticed how daily huddles improved communications regarding equipment. "When we write it down on the board and do daily huddles, everyone knows when a room is down. People who come in after the morning huddle can see it on the board also know when a room is down."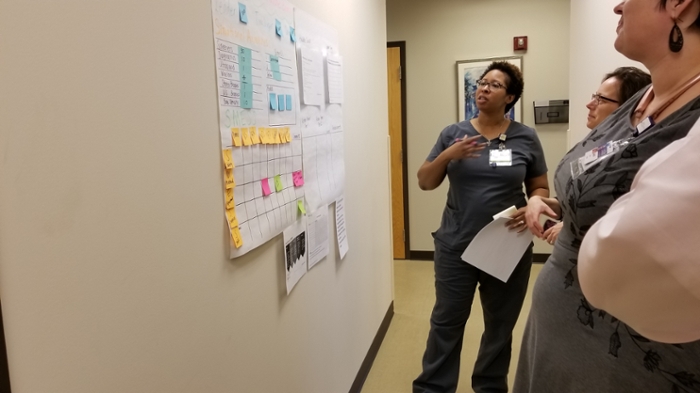 Shawn Dubenion leading her team's daily huddle.
Shawn's team also tries to rotate between every technologist and nurse navigator so everyone is familiar with how it works and how to do it.
Vice Chair for Quality Dr. Marta Heilbrun hopes to see every team and division in Emory Radiology use the daily huddle initiative. "The idea is to spend five minutes a day in your area to check in with the team, which is something that should be happening within every area, whether it's a physician's workspace or technologist's workspace. The challenge is how to turn that 5-minute check-in into something communicated beyond your immediate work area to others."
Leader Standard Work
Just as operators have standardized work for their value-added activities, our leaders need predictable, repeatable standard activities that build "problem-solving muscle" and guide team members along their path to daily continuous improvement. These activities constitute a management practice known as Leader Standard Work.  In order to flip the pyramid from traditional top-down management and support a culture shift to daily problem solving, several of our leaders participated in specialized Leader Standard Work (LSW) training on June 24th.  As their LEAN leadership journey continues, they will be perfecting their standard work to have more time to spend where the work is happening. This elusive place is known in LEAN as Gemba. Employees should expect to see leaders getting out of their offices and conference rooms and spending time in the clinical workspaces.  
Integrated Facility Design
Through engagement with key stakeholders, the new Winship Tower at Emory University Hospital Midtown is using LEAN design principles to help remove waste and optimize workflows. The Radiology Department will be located on the second floor in this new building, offering CT, MRI, NM, general diagnostic, IR, and ultrasound services. 
The department had a unique opportunity to test design concepts of the new space using Cardboard City, a built-to-scale model made of cardboard and residing in a warehouse in Atlanta.  Team members from each modality rolled up their sleeves and moved walls, built cardboard workstations and equipment, and tested the flow of patients and employees. They worked with supply inventory, various clean/dirty scenarios, and even simulated different types of emergency codes. As part of the re-design of building C at our Clifton campus, team members from the Breast Center contributed their experience and best-practices in this design simulation at Cardboard City.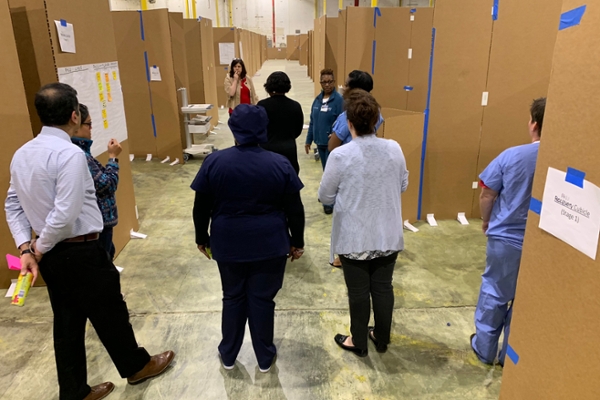 Dr. Heilbrun raises the questions, "If MRI machines have to be in the corner for structural support, where would we want to locate a nurse's station or a technologist's station so that we can staff it, bring patients in, and do that imaging process with the least amount of travel? If we want to have a LEAN model of supply management, where do we need to put our central supplies? What kind of staffing do we need to have?"
That's where Cardboard City steps in. The idea of Cardboard City focuses on how to use space to support processes and require the least amount of travel for our technologists, staff, and patients. It answers the driving goal of having the places where out-patients travel be separate from where in-patients are traveling and make the entire process more efficient from start to finish.